09.11.2017 | Article | Ausgabe 3/2018 Open Access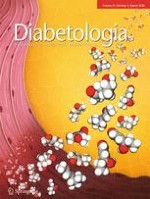 Development and characterisation of a novel glucagon like peptide-1 receptor antibody
Zeitschrift:
Autoren:

Emma K. Biggs, Lihuan Liang, Jacqueline Naylor, Shimona Madalli, Rachel Collier, Matthew P. Coghlan, David J. Baker, David C. Hornigold, Peter Ravn, Frank Reimann, Fiona M. Gribble
Wichtige Hinweise
Electronic supplementary material
Abstract
Aims/hypothesis
Glucagon like peptide-1 (GLP-1) enhances glucose-dependent insulin secretion by binding to GLP-1 receptors (GLP1Rs) on pancreatic beta cells. GLP-1 mimetics are used in the clinic for the treatment of type 2 diabetes, but despite their therapeutic success, several clinical effects of GLP-1 remain unexplained at a mechanistic level, particularly in extrapancreatic tissues. The aim of this study was to generate and characterise a monoclonal antagonistic antibody for the GLP1R for use in vivo.
Methods
A naive phage display selection strategy was used to isolate single-chain variable fragments (ScFvs) that bound to GLP1R. The ScFv with the highest affinity, Glp1R0017, was converted into a human IgG1 and characterised further. In vitro antagonistic activity was assessed in a number of assays: a cAMP-based homogenous time-resolved fluorescence assay in GLP1R-overexpressing cell lines, a live cell cAMP imaging assay and an insulin secretion assay in INS-1 832/3 cells. Glp1R0017 was further tested in immunostaining of mouse pancreas, and the ability of Glp1R0017 to block GLP1R in vivo was assessed by both IPGTT and OGTT in C57/Bl6 mice.
Results
Antibodies to GLP1R were selected from naive antibody phage display libraries. The monoclonal antibody Glp1R0017 antagonised mouse, human, rat, cynomolgus monkey and dog GLP1R. This antagonistic activity was specific to GLP1R; no antagonistic activity was found in cells overexpressing the glucose-dependent insulinotropic peptide receptor (GIPR), glucagon like peptide-2 receptor or glucagon receptor. GLP-1-stimulated cAMP and insulin secretion was attenuated in INS-1 832/3 cells by Glp1R0017 incubation. Immunostaining of mouse pancreas tissue with Glp1R0017 showed specific staining in the islets of Langerhans, which was absent in
Glp1r
knockout tissue. In vivo, Glp1R0017 reversed the glucose-lowering effect of liraglutide during IPGTTs, and reduced glucose tolerance by blocking endogenous GLP-1 action in OGTTs.
Conclusions/interpretation
Glp1R0017 is a monoclonal antagonistic antibody to the GLP1R that binds to GLP1R on pancreatic beta cells and blocks the actions of GLP-1 in vivo. This antibody holds the potential to be used in investigating the physiological importance of GLP1R signalling in extrapancreatic tissues where cellular targets and signalling pathways activated by GLP-1 are poorly understood.