26.10.2017 | Original Article | Ausgabe 1/2018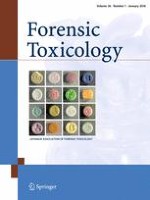 Development and validation of a sensitive LC–MS/MS method to analyze NBOMes in dried blood spots: evaluation of long-term stability
Zeitschrift:
Autoren:

Kelly Francisco da Cunha, Marcos Nogueira Eberlin, Jose Luiz Costa
Abstract
Purpose
We evaluated the use of dried blood spots (DBS) to determine seven NBOMes by liquid chromatography–tandem mass spectrometry (LC–MS/MS), and also evaluated the stability of these compounds in this dried matrix.
Methods
An LC–MS/MS method was developed and fully validated to quantify seven NBOMes (25C-, 25H-, 25I-, 25B-, 25G-, 25D- and 25E-NBOMe) in DBS samples. The extraction procedure was optimized using mixture design experiment. Stability study was performed in two different concentrations over 180 days at three different storage temperatures.
Results
Good linearity, and limits of detection and quantitation of 0.05 and 0.1 ng/mL, respectively, were obtained. The interday imprecision (
n
= 15) and bias (
n
= 15) were not higher than 11.4 and 10.3%, respectively, and no carryover was observed. All analytes remained stable in DBS at − 20, 4 °C and even at room temperatures for 180 days, except 25B-NBOMe and 25I-NBOMe which experienced degradation (22 and 21%, respectively) of the initial concentration at room temperature after 180 days of study. The method was applied to a DBS of an authentic postmortem blood from an NBOMe user, and it was found to be reliable with good selectivity and specificity.
Conclusions
DBS has been found to allow reliable, sensitive, accurate and robust detection and quantification of seven NBOMes via LC–MS/MS. Also, DBS provided great stability to most of the compounds at room temperature, and no degradation was observed for DBS kept at 4 and − 20 °C. This is the first trial to analyze NBOMes in DBS samples to our knowledge.