01.12.2017 | Study protocol | Ausgabe 1/2017 Open Access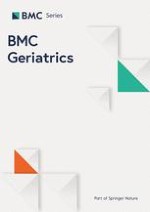 Development of a home-based training program for post-ward geriatric rehabilitation patients with cognitive impairment: study protocol of a randomized-controlled trail
Zeitschrift:
Autoren:

Martin Bongartz, Rainer Kiss, Phoebe Ullrich, Tobias Eckert, Jürgen Bauer, Klaus Hauer
Abstract
Background
Geriatric patients with cognitive impairment (CI) show an increased risk for a negative rehabilitation outcome and reduced functional recovery following inpatient rehabilitation. Despite this obvious demand, evidence-based training programs at the transition from rehabilitation to the home environments are lacking. The aim of this study is to evaluate the efficacy of a feasible and cost-effective home-based training program to improve motor performance and to promote physical activity, specifically-tailored for post-ward geriatric patients with CI.
Methods
A sample of 101 geriatric patients with mild to moderate stage CI following ward-based rehabilitation will be recruited for a blinded, randomized controlled trial with two arms. The intervention group will conduct a 12 week home-based training, consisting of (1) Exercises to improve strength/power, and postural control; (2) Individual walking trails to enhance physical activity; (3) Implementation of patient-specific motivational strategies to promote behavioral changes. The control group will conduct 12 weeks of unspecific flexibility exercise. Both groups will complete a baseline measurement before starting the program, at the end of the intervention, and after 24 weeks for follow-up. Sensor-based as well as questionnaire-based measures will be applied to comprehensively assess intervention effects. Primary outcomes document motor performance, assessed by the Short Physical Performance Battery, and level of physical activity (PA), as assessed by duration of active episodes (i.e., sum of standing and walking). Secondary outcomes include various medical, psycho-social, various PA and motor outcomes, including sensor-based assessment as well as cost effectiveness.
Discussion
Our study is among the first to provide home-based training in geriatric patients with CI at the transition from a rehabilitation unit to the home environment. The program offers several unique approaches, e.g., a comprehensive and innovative assessment strategy and the integration of individually-tailored motivational strategies. We expect the program to be safe and feasible in geriatric patients with CI with the potential to enhance the sustainability of geriatric rehabilitation programs in patients with CI.
Trial registration
International Standard Randomized Controlled Trial (#
ISRCTN82378327
). Registered: August 10, 2015.