19.05.2017 | Original Article | Ausgabe 8/2017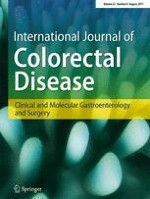 Development of a new risk nomogram of perioperative major adverse cardiac events for Chinese patients undergoing colorectal carcinoma surgery
Zeitschrift:
Autoren:

Juhong Zhang, Ying Xiao, Daya Yang, Xiaodong Zhuang, Ling Wang, Xiuren Gao, Zhibin Huang
Wichtige Hinweise
Juhong Zhang and Ying Xiao contributed equally to this work.
Zhibin Huang and Xiuren Gao contributed equally to supervising this work.
Abstract
Purpose
The purpose of this study is to create a new risk nomogram to predict perioperative major adverse cardiac events in patients undergoing colorectal carcinoma surgery.
Methods
A total of 1899 patients who underwent colorectal carcinoma surgery at a tertiary teaching hospital in China between 2007 and 2012 were recruited. Logistic regression analysis was used to define risk factors for major adverse cardiac events. A nomogram-predicting model was built based on the logistic regression model and discrimination was tested by receiver operating characteristic curves.
Results
Fifty-six (2.9%) among 1899 included patients developed at least one cardiac event. Eight risk factors were found in the multivariate logistic regression model, which included age ≥60 years, smoking, a history of chronic kidney disease, coronary artery disease, congestive heart failure, hypertension, preoperative albumin levels ≤35 g/L, blood transfusion ≥500 mL, and intraoperative blood pressure variability.
P =
0.708 in the Hosmer–Lemeshow test indicated acceptable calibration power. Based on this multivariate model, we built a risk nomogram model for these cardiac events with an area under the curve (95% confidence interval) of 0.923 (0.889, 0.957), which demonstrated good discrimination of this model. When the probability cutoff was 1.9% (total score of 83), the nomogram model had the best sensitivity and specificity in predicting cardiac events.
Conclusions
A new nomogram model for predicting perioperative major adverse cardiac events in patients who had colorectal carcinoma surgery was established in this study. When the total score is >83, patients undergoing colorectal carcinoma surgery should be considered at high risk of perioperative major adverse cardiac events.