16.05.2019 | Reproductive Physiology and Disease | Ausgabe 6/2019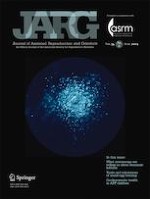 Development of an efficient perfusion-based protocol for whole-organ decellularization of the ovine uterus as a human-sized model and in vivo application of the bioscaffolds
Zeitschrift:
Autoren:

Seyedeh Sima Daryabari, Abdol-Mohammad Kajbafzadeh, Kiarad Fendereski, Fariba Ghorbani, Mehrshad Dehnavi, Minoo Rostami, Bahram Azizi Garajegayeh, Seyed Mohammad Tavangar
Wichtige Hinweise
Publisher's note
Springer Nature remains neutral with regard to jurisdictional claims in published maps and institutional affiliations.
Abstract
Purpose
The main purpose of this investigation was to determine an efficient whole-organ decellularization protocol of a human-sized uterus and evaluate the in vivo properties of the bioscaffold.
Methods
Twenty-four ovine uteri were included in this investigation and were decellularized by three different protocols (
n
6). We performed histopathological and immunohistochemical evaluations, 4,6-diamidino-2-phenylindole (DAPI) staining, DNA quantification, MTT assay, scanning electron microscopy, biomechanical studies, and CT angiography to characterize the scaffolds. The optimized protocol was determined, and patches were grafted into the uterine horns of eight female Wistar rats. The grafts were extracted after 10 days; the opposite horns were harvested to be evaluated as controls.
Results
Protocol III (perfusion with 0.25% and 0.5% SDS solution and preservation in 10% formalin) was determined as the optimized method with efficient removal of the cellular components while preserving the extracellular matrix. Also, the bioscaffolds demonstrated native-like biomechanical, structural, and vascular properties. Histological and immunohistochemical evaluations of the harvested grafts confirmed the biocompatibility and recellularization potential of bioscaffolds. Also, the grafts demonstrated higher positive reaction for CD31 and Ki67 markers compared with the control samples which indicated eminent angiogenesis properties and proliferative capacity of the implanted tissues.
Conclusions
This investigation introduces an optimized protocol for whole-organ decellularization of the human-sized uterus with native-like characteristics and a prominent potential for regeneration and angiogenesis which could be employed in in vitro and in vivo studies. To the best of our knowledge, this is the first study to report biomechanical properties and angiographic evaluations of a large animal uterine scaffold.