08.05.2017 | Preclinical study | Ausgabe 2/2017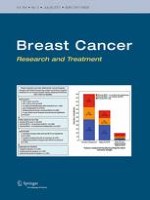 Development of mammary hyperplasia, dysplasia, and invasive ductal carcinoma in transgenic mice expressing the 8p11 amplicon oncogene NSD3
Zeitschrift:
Autoren:

Brittany Turner-Ivey, Ericka L. Smith, Alex C. Rutkovsky, Laura S. Spruill, Jamie N. Mills, Stephen P. Ethier
Wichtige Hinweise
Brittany Turner-Ivey and Ericka L. Smith have contributed equally to this work.
Abstract
Purpose
NSD3 has been implicated as a candidate driver oncogene from the 8p11-p12 locus, and we have previously published evidence for its amplification and overexpression in human breast cancer. This aim of this study was to further characterize the transforming function of NSD3 in vivo.
Methods
We generated a transgenic mouse model in which NSD3 gene expression was driven by the MMTV promoter and expressed in mammary epithelium of FVB mice. Mammary glands were fixed and whole mounts were stained with carmine to visualize gland structure. Mammary tumors were formalin-fixed, and paraffin embedded (FFPE) tumors were stained with hematoxylin and eosin.
Results
Pups born to transgenic females were significantly underdeveloped compared to pups born to WT females due to a lactation defect in transgenic female mice. Whole mount analysis of the mammary glands of transgenic female mice revealed a profound defect in functional differentiation of mammary gland alveoli that resulted in the lactation defect. We followed parous and virgin NSD3 transgenic and control mice to 50 weeks of age and observed that several NSD3 parous females developed mammary tumors. Whole mount analysis of the mammary glands of tumor-bearing mice revealed numerous areas of mammary hyperplasia and ductal dysplasia. Histological analysis showed that mammary tumors were high-grade ductal carcinomas, and lesions present in other mammary glands exhibited features of alveolar hyperplasia, ductal dysplasia, and carcinoma in situ.
Conclusions
Our results are consistent with our previous studies and demonstrate that NSD3 is a transforming breast cancer oncogene.