Erschienen in: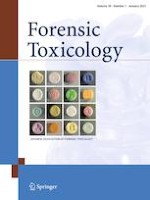 10.09.2020 | Original Article
Development of the "selective concentration" analytical method for drug-containing hair regions based on micro-segmental analysis to identify a trace amount of drug in hair: hair analysis following single-dose ingestion of midazolam
Erschienen in: Forensic Toxicology | Ausgabe 1/2021
Einloggen, um Zugang zu erhalten
Abstract
Purpose
Hair can be the only available specimen to prove drug-facilitated crimes (DFCs). However, it is difficult to identify drugs abused in DFCs, particularly benzodiazepines ingested in a single dose, using the conventional segmental hair analysis. In this study, an analytical procedure to identify a trace amount of drug in hair based on micro-segmental analysis was developed.
Methods
Hair was donated from a subject who had been administered midazolam in a single dose. First, tens of hair strands were analyzed according to our routine procedure. Drug screening and identification were performed using a quadrupole-Orbitrap liquid chromatography–tandem mass spectrometry (LC–MS/MS) instrument. Next, two hair strands were segmented at 0.4-mm intervals and multi-target selected reaction monitoring of each segment (micro-segmental analysis) was performed using a tandem quadrupole LC–MS/MS instrument. After distribution curves of midazolam-derived ions in each hair strand were constructed, the residual extracts from segments corresponding to drug-containing regions were collected selectively into one tube. The extract was concentrated using solid-phase extraction and then injected into the LC–MS/MS instrument for drug identification.
Results
We failed to identify drugs using our routine procedure, although a slight peak, predicted to arise from midazolam, was detected, while the peak detected in the concentrated extract from drug-containing hair regions (named "selective concentration") was identified as midazolam.
Conclusions
The "selective concentration" enabled the identification of a trace amount of drug using several hair strands. The method would be helpful in proving DFCs even after it was impossible to identify drugs using conventional segmental hair analysis.