01.12.2014 | Research | Ausgabe 1/2014 Open Access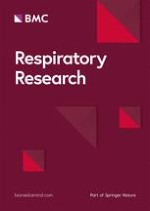 Developmental lung expression and transcriptional regulation of Claudin-6 by TTF-1, Gata-6, and FoxA2
Zeitschrift:
Autoren:

Felix R Jimenez, Joshua B Lewis, Samuel T Belgique, Tyler T Wood, Paul R Reynolds
Wichtige Hinweise
Electronic supplementary material
The online version of this article (doi:
10.​1186/​1465-9921-15-70
) contains supplementary material, which is available to authorized users.
Competing interests
The authors declare that they have no competing interests.
Authors' contributions
FRJ, JBL, and TTW performed immunofluorescence and JBL and TTW completed the quantitative RT-PCR. FRJ and STB were responsible for the cell culture and reporter analyses. PRR conceived of the studies and with the assistance of FRJ, supervised in the implementation, interpretation, and writing. All authors assisted in manuscript preparation and approved of the final submitted version.
Abstract
Background
Claudins are transmembrane proteins expressed in tight junctions that prevent paracellular transport of extracellular fluid and a variety of other substances. However, the expression profile of Claudin-6 (Cldn6) in the developing lung has not been characterized.
Methods and results
Cldn6 expression was determined during important periods of lung organogenesis by microarray analysis, qPCR and immunofluorescence. Expression patterns were confirmed to peak at E12.5 and diminish as lung development progressed. Immunofluorescence revealed that Cldn6 was detected in cells that also express TTF-1 and FoxA2, two critical transcriptional regulators of pulmonary branching morphogenesis. Cldn6 was also observed in cells that express Sox2 and Sox9, factors that influence cell differentiation in the proximal and distal lung, respectively. In order to assess transcriptional control of
Cldn6
, 0.5, 1.0, and 2.0-kb of the proximal murine
Cldn6
promoter was ligated into a luciferase reporter and co-transfected with expression vectors for TTF-1 or two of its important transcriptional co-regulators, FoxA2 and Gata-6. In almost every instance, TTF-1, FoxA2, and Gata-6 activated gene transcription in cell lines characteristic of proximal airway epithelium (Beas2B) and distal alveolar epithelium (A-549).
Conclusions
These data revealed for the first time that Cldn6 might be an important tight junctional component expressed by pulmonary epithelium during lung organogenesis. Furthermore, Cldn6-mediated aspects of cell differentiation may describe mechanisms of lung perturbation coincident with impaired cell junctions and abnormal membrane permeability.