16.11.2016 | Laboratory Investigation | Ausgabe 3/2017 Open Access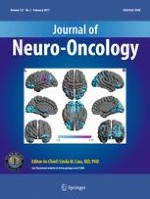 Dexamethasone and levetiracetam reduce hetero-cellular gap-junctional coupling between F98 glioma cells and glial cells in vitro
Zeitschrift:
Autoren:

Fatme Seval Ismail, Zahra Moinfar, Nora Prochnow, Hannes Dambach, Daniel Hinkerohe, Claus Gert Haase, Eckart Förster, Pedro Michael Faustmann
Wichtige Hinweise
Dedicated to Prof. Dr. Hans-Christoph Diener, former head of the Department of Neurology, now senior Professor of Clinical Neurosciences, University of Duisburg-Essen, Germany, on the occasion of his 65th birthday.
Fatme Seval Ismail and Zahra Moinfar have equally contributed as first author.
Abstract
Gap junctions (GJs) in astrocytes and glioma cells are important channels for cell-to-cell communication that contribute to homo- and heterocellular coupling. According to recent studies, heterocellular gap-junctional communication (H-GJC) between glioma cells and their surrounding environment enhances glioma progression. Therefore, we developed a new in vitro model to examine H-GJC between glioma cells, astrocytes and microglia. Consequently, F98 rat glioma cells were double-labeled with GJ-impermeable (CM-DiI) and GJ-permeable dye (calcein AM) and were seeded on unlabeled astrocyte-microglia co-cultures. Dual whole cell voltage clamp recordings were carried out on selected cell pairs to characterize the functional properties of H-GJC in vitro. The expression of four types of connexins (Cxs), including Cx32, Cx36, Cx43 and Cx45, and microglial phenotypes were analyzed by immunocytochemistry. The H-GJC between glioma cells and astrocytes/microglia increased after a longer incubation period with a higher number of glioma cells. We provided evidence for the direct GJ coupling of microglia and glioma cells under native in vitro conditions. In addition, we exploited this model to evaluate H-GJC after incubation with levetiracetam (LEV) and/or dexamethasone (DEX). Previous in vitro studies suggest that LEV and DEX are frequently used to control seizure and edema in glioma. Our findings showed that LEV and/or DEX decrease the number of heterocellular coupled cells significantly. In conclusion, our newly developed model demonstrated H-GJC between glioma cells and both astrocytes and microglia. The reduced H-GJC by LEV and DEX suggests a potential effect of both drugs on glioma progression.