01.12.2018 | Research | Ausgabe 1/2018 Open Access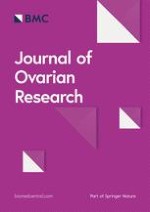 DHEA-induced ovarian hyperfibrosis is mediated by TGF-β signaling pathway
Zeitschrift:
Autoren:

Daojuan Wang, Wenqing Wang, Qiao Liang, Xuan He, Yanjie Xia, Shanmei Shen, Hongwei Wang, Qian Gao, Yong Wang
Wichtige Hinweise
Electronic supplementary material
Abstract
Background
The polycystic ovary syndrome (PCOS) is a common metabolic and endocrine disorder with pathological mechanisms remain unclear. The following study investigates the ovarian hyperfibrosis forming via transforming growth factor-β (TGF-β) signaling pathway in Dehydroepiandrosterone (DHEA)- induced polycystic ovary syndrome (PCOS) rat model. We furthermore explored whether TGF-βRI inhibitor (SB431542) decreases ovarian fibrosis by counterbalancing the expression of fibrotic biomarkers.
Methods
Thirty female Sprague-Dawley rats were randomly divided into Blank group (
n
 = 6), Oil group (n = 6), and Oil + DHEA-induced model group (n = 6 + 12). The model groups were established by subcutaneous injection of DHEA for 35 consecutive days. The 12 successful model rats were additionally divided in vehicle group (
n
 = 6) and SB431542-treated group (n = 6). Vehicle group and SB431542-treated group, served as administration group and were intraperitoneally injected with DMSO and SB431542 for additional 14 consecutive days. Ovarian morphology, fibrin and collagen localization and expression in ovaries were detected using H&E staining, immunohistochemistry and Sirius red staining. The ovarian protein and RNA were examined using Western blot and RT-PCR.
Results
In DHEA-induced ovary in rat, fibrin and collagen had significantly higher levels, while the main fibrosis markers (TGF-β, CTGF, fibronectin, a-SMA) were obviously upregulated. SB431542 significantly reduced the expression of pro-fibrotic molecules (TGF-β, Smad3, Smad2, a-SMA) and increased anti-fibrotic factor MMP2.
Conclusion
TGF-βRI inhibitor (SB431542) inhibits the downstream signaling molecules of TGF-β and upregulates MMP2, which in turn prevent collagen deposition. Moreover, ovarian hyperfibrosis in DHEA-induced PCOS rat model could be improved by TGF-βRI inhibitor (SB431542) restraining the transcription of accelerating fibrosis genes and modulating EMT mediator.