01.12.2016 | Case report | Ausgabe 1/2016 Open Access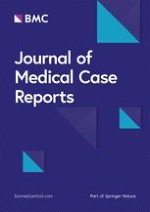 Diabetic ketoacidosis presenting with atypical hemolytic uremic syndrome associated with a variant of complement factor B in an adult: a case report
Zeitschrift:
Autoren:

Ziqiang Zhu, Hui Chen, Rupinder Gill, Jenchin Wang, Samuel Spitalewitz, Vladimir Gotlieb
Wichtige Hinweise
Competing interests
The authors declare that they have no competing interests.
Authors' contributions
ZZ, HC, RG, SS, and VG evaluated and treated the patient. ZZ, HC, RG, SS, and VG reviewed the literature, designed the case report, and analyzed the data. ZZ, HC, and RG drafted the manuscript. All authors read and approved the final manuscript.
Abstract
Background
Non-Shiga toxin-associated hemolytic uremic syndrome is known to be caused by dysregulation of the alternative complement pathway. Infections, drugs, pregnancy, bone marrow transplantation, malignancy, and autoimmune disorders have all been reported to trigger episodes of atypical hemolytic uremic syndrome. To the best of our knowledge, there have been no previous reports of an association between diabetic ketoacidosis and atypical hemolytic uremic syndrome.
Case presentation
We describe a case of a 26-year-old Spanish man who presented with diabetic ketoacidosis and was found to have the triad of microangiopathic hemolytic anemia, thrombocytopenia, and acute kidney injury. The patient had a normal ADAMTS13 (a disintegrin and metalloproteinase with a thrombospondin type 1 motif, member 13) activity level, and his renal biopsy demonstrated predominant changes of diabetic glomerulosclerosis with an area compatible with thrombotic microangiopathy suggestive of superimposed atypical hemolytic uremic syndrome. Complement sequencing subsequently revealed a potential causative mutation in exon 12 of complement factor B with changes of lysine at amino acid position 533 to an arginine (CFB p.K533R).
Conclusions
To the best of our knowledge, this is the first case report of diabetic ketoacidosis presenting with atypical hemolytic uremic syndrome associated with a variant of complement factor B in an adult patient.