01.12.2018 | Original investigation | Ausgabe 1/2018 Open Access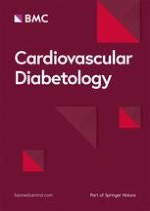 Diabetic retinopathy is associated with the presence and burden of subclinical carotid atherosclerosis in type 1 diabetes
Zeitschrift:
Autoren:

Marc Carbonell, Esmeralda Castelblanco, Xavier Valldeperas, Àngels Betriu, Alícia Traveset, Minerva Granado-Casas, Marta Hernández, Federico Vázquez, Mariona Martín, Esther Rubinat, Albert Lecube, Josep Franch-Nadal, Elvira Fernández, Manel Puig-Domingo, Angelo Avogaro, Núria Alonso, Dídac Mauricio
Wichtige Hinweise
Electronic supplementary material
Marc Carbonell and Esmeralda Castelblanco contributed equally to this work
Abstract
Background
Cardiovascular (CV) disease due to atherosclerosis is a major cause of morbidity and mortality in adult patients with diabetes, either type 1 or type 2 diabetes. The aim of the study was to assess the association of the frequency and the burden of subclinical carotid atherosclerotic disease in patients with type 1 diabetes according to the presence and severity of diabetic retinopathy (DR).
Methods
A cross-sectional study was conducted in 340 patients with type 1 diabetes (41.5% with DR), and in 304 non-diabetic individuals. All participants were free from previous CV disease and chronic kidney disease (CKD). B-mode carotid ultrasound imaging was performed in all the study subjects. Patients with type 1 diabetes underwent a full eye examination, and DR patients were divided into two groups: mild disease and advanced disease.
Results
In the group of patients with type 1 diabetes, the percentage of patients with carotid plaques was higher in those with DR compared with those without DR (44.7% vs. 24.1%, p < 0.001). Patients with DR also presented a higher incidence of ≥ 2 carotid plaques (25.5% vs. 11.1%, p < 0.001). Apart from other traditional cardiovascular risk factors, the presence of advanced stages of DR was independently associated with the presence (p = 0.044) and the burden (≥ 2 carotid plaques; p = 0.009) of subclinical carotid atherosclerosis.
Conclusions
In patients with type 1 diabetes without previous CV disease or established CKD, the presence of advanced stages of DR is associated with a higher atherosclerotic burden in the carotid arteries. The presence of DR identifies patients at risk for carotid atherosclerotic disease.