01.12.2019 | Original research article | Ausgabe 1/2019 Open Access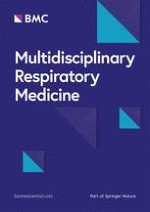 Diagnosing COPD in primary care: what has real life practice got to do with guidelines?
Zeitschrift:
Autoren:

Greta Ragaišienė, Rūta Kibarskytė, Rasa Gauronskaitė, Monika Giedraitytė, Agnė Dapšauskaitė, Vytautas Kasiulevičius, Edvardas Danila
Wichtige Hinweise
Publisher's Note
Springer Nature remains neutral with regard to jurisdictional claims in published maps and institutional affiliations.
Abstract
Background
The role of primary care physician in COPD management varies in different health care systems. According to the researches in various countries, extent of spirometry use in diagnosing and grading COPD frequently remains insufficient. Inaccurate diagnosis results in mistreatment and disease progression.
The aims of our study were to investigate the accuracy of COPD diagnosis, grading, and treatment according to guidelines in daily practice of primary care.
Methods
A retrospective analysis of ambulatory records in a large primary care center was conducted. Digital medical records of current patients were screened for ICD-10-AM codes J44.0, J44.1, J44.8 and J44.9. All medical records starting from the first visit in this primary care center were reviewed.
Results
Two hundred twenty-eight patients diagnosed with COPD were included in the study, 118 male, mean age 67 yrs. (SD 14). A spirometry report was available to 58% of the patients, 75% of them met the guidelines for COPD diagnosis. The grade was correct for 56.8% of the patients. 54% were consulted by the pulmonologist at least once. After re-analyzing spirometry, correcting the diagnosis, and grading, it was determined that only 70% of the patients were receiving appropriate treatments. Sixteen per cent of patients were undertreated and 14% were overtreated.
Conclusions
COPD care in primary practice remains suboptimal. Incorrect approach often leads to incorrect grading and mistreatment. Points for improvement should be identified in further studies.