01.12.2017 | Research article | Ausgabe 1/2017 Open Access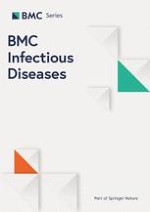 Diagnosing tuberculosis in hospitalized HIV-infected individuals who cannot produce sputum: is urine lipoarabinomannan testing the answer?
Zeitschrift:
Autoren:

Natasha F. Sabur, Aliasgar Esmail, Mantaj S. Brar, Keertan Dheda
Abstract
Background
Up to one third of HIV-infected individuals with suspected TB are sputum-scarce. The Alere Determine™ TB LAM Ag lateral flow strip test can be used to diagnose TB in HIV-infected patients with advanced immunosuppression. However, how urine LAM testing should be incorporated into testing algorithms and in the context of specific patient sub-groups remains unclear.
Methods
This study represents a post hoc sub-group analysis of data from a randomized multi-center parent study. The study population consisted of hospitalized HIV-infected patients with suspected TB who were unable to produce sputum and who underwent urine LAM testing. The diagnostic utility of urine LAM for TB in this group was compared to the performance of urine LAM in patients who did produce a sputum sample in the parent study.
Results
There were a total of 187 and 2341 patients in the sputum-scarce and sputum-producing cohorts, respectively. 80 of the sputum-scarce patients underwent testing with urine LAM. In comparison to those who did produce sputum, sputum-scarce patients had a younger age, a lower Karnofsky performance score, and a lower weight and BMI at admission. A greater proportion of sputum-scarce patients were urine LAM positive, compared to those who were able to produce sputum (31% vs. 21%,
p
= 0.04). A higher proportion of sputum-scarce patients died within 8 weeks of admission (32% vs. 24%,
p
= 0.013). We inferred that 19% of HIV-infected sputum-scarce patients suspected of TB were diagnosed with tuberculosis by urine LAM testing, with an estimated positive predictive value of 63% (95% CI 43–82%).
Conclusions
Urine LAM testing can effectively identify tuberculosis in HIV-infected patients who are at a higher risk of mortality yet are unable to generate a sputum sample for diagnostic testing. Our findings support the use of urine LAM testing in sputum-scarce hospitalized HIV-infected patients, and its incorporation into diagnostic algorithms for this patient population.