01.12.2012 | Research article | Ausgabe 1/2012 Open Access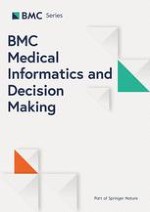 Diagnosis and management of people with venous thromboembolism and advanced cancer: how do doctors decide? a qualitative study
Zeitschrift:
Autoren:

Miriam J Johnson, Laura Sheard, Anthony Maraveyas, Simon Noble, Hayley Prout, Ian Watt, Dawn Dowding
Wichtige Hinweise
Competing interests
SN, AM and MJ are co-directors of the TRAD Alliance. The TRAD Alliance is supported by an unrestricted educational grant from Pfizer. SN has given lectures on behalf of Pfizer, Sanofi Aventis, Leo Pharma and Boeringer Ingelheim; all fees are donated directly to charity. SN has also received research grant funding from Pfizer. AM is an advisory board member for Leo and for Pfizer and has received research grant funding from Pharmacia/Pfizer. There are no conflicts of interests declared from DD, LS, HP, and IW.
Authors' contributions
MJ conceived the idea for the study, participated in the study design, co-ordination, advised on data analysis and drafted the manuscript. DD conceived the idea for the study, participated in study design, co-ordination, and drafted the manuscript. LS & HP collected all the data. LS, HP & DD analysed data. LS co-ordinated the study and interpreted all data. SN, IW and AM participated in the study design, trial coordination and commented on manuscript drafts. MJ, DD, SN, AM and IW were applicants on the original grant. All authors were members of the project management group and approved the final manuscript.
Abstract
Background
The treatment of cancer associated thrombosis (CAT) is well established, with level 1A evidence to support the recommendation of a low molecular weight heparin (LMWH) by daily injection for 3–6 months. However, registry data suggest compliance to clinical guidelines is poor. Clinicians face particular challenges in treating CAT in advanced cancer patients due to shorter life expectancy, increased bleeding risk and concerns that self injection may be too burdensome. For these reasons decision making around the diagnosis and management of CAT in people with advanced cancer, can be complex, and should focus on its likely net benefit for the patient. We explored factors that influence doctors' decision making in this situation and sought to gain an understanding of the barriers and facilitators to the application of best practice.
Methods
Think aloud exercises using standardised case scenarios, and individual in depth interviews were conducted. All were transcribed. The think aloud exercises were analysed using Protocol Analysis and the interviews using Framework Analysis.
Participants: 46 participants took part in the think aloud exercises and 45 participants were interviewed in depth. Each group included oncologists, palliative physicians and general practitioners and included both senior doctors and those in training.
Setting: Two Strategic Health Authority regions, one in the north of England and one in Wales.
Results
The following key issues arose from the data synthesis: the importance of patient prognosis; the concept of "appropriateness"; "benefits and burdens" of diagnosis and treatment; LMWH or warfarin for treatment and sources of information which changed practice. Although interlinked, they do describe distinct aspects of the factors that influence doctors in their decisions in this area.
Conclusions
The above factors are issues doctors take into account when deciding whether to send a patient to hospital for investigation or to anticoagulate a patient with confirmed or suspected VTE. Many factors interweave and are themselves influenced by and dependent on each other. It is only after all are taken into account that the doctor arrives at the point of referring the patient for investigation. Some factors including logistic and organisational issues appeared to influence whether a patient would be investigated or treated with LMWH for a confirmed VTE. It is important that services are optimised to ensure that these do not hinder the appropriate investigation and management of individual patients.