29.10.2018 | Original Article | Ausgabe 2/2019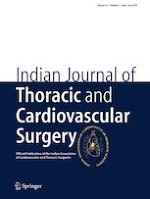 Diagnosis and prognosis of traumatic pulmonary pseudocysts
Autoren:

Cihan Bedel, Muharrem Özkaya
Abstract
Purpose
Traumatic pulmonary pseudocysts (TPP) are rarely talked about, developing in less than 3% of patients with pulmonary parenchymal injuries. Resolution usually occurs within a few weeks to a few months.
Methods
A retrospective study was undertaken in 30 cases treated in Antalya Training and Research Hospital, Turkey, from January 2014 to December 2017.
Results
The 30 patients with TPP were 28 males (93.3%) and 2 females (6.7%) aged 14–64 years (mean age 31.9 years). Most of them are located in the right lower lobe (50%). The mean size of TPP was 2.07 cm. The overall resolution time for TPP was found to range from 8 to 124 days with a mean of 45.1 ± 32.9 days.
Conclusions
Computed tomography (CT) is a more beneficial than chest radiograph for early diagnosis. Physicians should control follow-up chest radiograph or CT scans until the pseudocyst resolves. Conservative treatment is acceptable in most cases, but intervention may be necessary if complications show up.