16.03.2016 | Emergency Radiology | Ausgabe 11/2016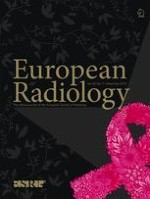 Diagnostic accuracy of triple-contrast multi-detector computed tomography for detection of penetrating gastrointestinal injury: a prospective study
Zeitschrift:
Autoren:

Nitima Saksobhavivat, Kathirkamanathan Shanmuganathan, Alexis R. Boscak, Clint W. Sliker, Deborah M. Stein, Uttam K. Bodanapally, Krystal Archer-Arroyo, Lisa A. Miller, Thorsten R. Fleiter, Melvin T. Alexander, Stuart E. Mirvis, Thomas M. Scalea
Abstract
Purpose
Neither the performance of CT in diagnosing penetrating gastrointestinal injury nor its ability to discriminate patients requiring either observation or surgery has been determined.
Materials and methods
This was a prospective, single-institutional observational study of patients with penetrating injury to the torso who underwent CT. Based on CT signs, reviewers determined the presence of a gastrointestinal injury and the need for surgery or observation. The primary outcome measures were operative findings and clinical follow-up. CT results were compared with the primary outcome measures.
Results
Of one hundred and seventy-one patients (72 gunshot wounds, 99 stab wounds; age range, 18–57 years; median age, 28 years) with penetrating torso trauma who underwent CT, 45 % were followed by an operation and 55 % by clinical follow up. Thirty-five patients had a gastrointestinal injury at surgery. The sensitivity, specificity, and accuracy of CT for diagnosing a gastrointestinal injury for all patients were each 91 %, and for predicting the need for surgery, they were 94 %, 93 %, 93 %, respectively. Among the 3 % of patients who failed observation, 1 % had a gastrointestinal injury.
Conclusion
CT is a useful technique to diagnose gastrointestinal injury following penetrating torso injury. CT can help discriminate patients requiring observation or surgery.
Key Points
•
The most sensitive sign is wound tract extending up to gastrointestinal wall.
•
The most accurate sign is gastrointestinal wall thickening.
•
Triple-contrast CT is a useful technique to diagnose gastrointestinal injury.
•
Triple-contrast CT helps to discriminate patients requiring observation and surgery.