01.12.2014 | Review | Ausgabe 1/2014 Open Access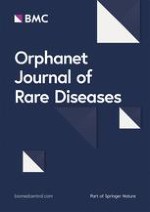 Diagnostic and treatment implications of psychosis secondary to treatable metabolic disorders in adults: a systematic review
Zeitschrift:
Autoren:

Olivier Bonnot, Hans Hermann Klünemann, Frederic Sedel, Sylvie Tordjman, David Cohen, Mark Walterfang
Wichtige Hinweise
Electronic supplementary material
The online version of this article (doi:
10.​1186/​1750-1172-9-65
) contains supplementary material, which is available to authorized users.
Competing interest
OB, MW, FS and HK declare past and present honorarium from Actelion Pharma. DC and ST have no competing interest.
Authors' contribution
OB write the first draft of the article which was reviewed by all authors. ST, DC, MW and HK help OB for response to reviewers. Regarding specific systematic review work, two groups worked separately in screening abstracts from relevant articles from the literature review (Group 1: MW and HK. Group 2: OB, DC, ST and FS). All authors read and approved the final manuscript.
Abstract
Objective
It is important for psychiatrists to be aware of certain inborn errors of metabolism (IEMs) as these rare disorders can present as psychosis, and because definitive treatments may be available for treating the underlying metabolic cause. A systematic review was conducted to examine IEMs that often present with schizophrenia-like symptoms.
Data sources
Published literature on MEDLINE was assessed regarding diseases of homocysteine metabolism (DHM; cystathionine beta-synthase deficiency [CbS-D] and homocysteinemia due to methyltetrahydrofolate reductase deficiency [MTHFR-D]), urea cycle disorders (UCD), acute porphyria (POR), Wilson disease (WD), cerebrotendinous-xanthomatosis (CTX) and Niemann-Pick disease type C (NP-C).
Study selection
Case reports, case series or reviews with original data regarding psychiatric manifestations and cognitive impairment published between January 1967 and June 2012 were included based on a standardized four-step selection process.
Data extraction
All selected articles were evaluated for descriptions of psychiatric signs (type, severity, natural history and treatment) in addition to key disease features.
Results
A total of 611 records were identified. Information from CbS-D (n = 2), MTHFR-D (n = 3), UCD (n = 8), POR (n = 12), WD (n = 11), CTX (n = 14) and NP-C publications (n = 9) were evaluated. Six non-systematic literature review publications were also included. In general, published reports did not provide explicit descriptions of psychiatric symptoms. The literature search findings are presented with a didactic perspective, showing key features for each disease and psychiatric signs that should trigger psychiatrists to suspect that psychotic symptoms may be secondary to an IEM.
Conclusion
IEMs with a psychiatric presentation and a lack of, or sub-clinical, neurological signs are rare, but should be considered in patients with atypical psychiatric symptoms.