01.12.2017 | Research article | Ausgabe 1/2017 Open Access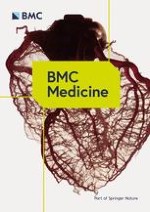 Diagnostic delay for giant cell arteritis – a systematic review and meta-analysis
Zeitschrift:
Autoren:

James A. Prior, Hoda Ranjbar, John Belcher, Sarah L. Mackie, Toby Helliwell, Jennifer Liddle, Christian D. Mallen
Wichtige Hinweise
Electronic supplementary material
The online version of this article (doi:
10.​1186/​s12916-017-0871-z
) contains supplementary material, which is available to authorized users.
Abbreviations
ACR
American College of Rheumatology
Background
Our aim was to systematically review the existing literature reporting the extent of delay in receiving a GCA diagnosis. Our specific objectives were (1) to determine a new evidence-based benchmark of the extent of this delay by pooling the mean time-periods between GCA symptom onset and diagnosis of GCA and (2) to examine the role of GCA-specific characteristics on delay.
Methods
A systematic review and meta-analysis of research literature was conducted. Medical bibliographic databases were searched to identify articles containing data on the mean time-period between the onset of GCA symptoms and GCA diagnosis. Meta-analysis was used to determine a pooled estimate of the time-period of diagnostic delay and analysed with regards to different GCA-specific characteristics.
Data sources, searches and study selection
The article search was performed using bibliometric databases (MEDLINE, CINAHL, PsycInfo and ISI web of knowledge). Article inclusion criteria were (1) a population with GCA and (2) reporting a time-period of diagnostic delay between the onset of GCA symptoms and GCA diagnosis as an outcome. No restrictions were placed on language and authors were contacted to locate articles where necessary. Diagnosis of GCA could be defined by positive temporal artery biopsy, by American College of Rheumatology (ACR) 1990 criteria [
21
], or by a documented clinical diagnosis of GCA. Articles were excluded if patients did not have GCA or did not report diagnostic delay.
From the total number of articles identified through all searches, a single reviewer (HR) initially screened the articles by title. Two reviewers (HR & JAP) independently screened articles by their abstracts and then, upon consensus, the remaining articles were reviewed in full (JAP & CDM). Finally, the reference list of each included article was checked for further relevant articles by a single reviewer (JAP).
Data extraction
Data were extracted from eligible articles by two reviewers (JAP & TH). The primary outcome of interest extracted from the final included articles was the mean time-period between onset of GCA symptoms and GCA diagnosis and the related estimate of variance. Other data extracted included lead author name, publication year, time-period between which patients were recruited or sampled from medical records, sample size, sex, age, country, healthcare setting, GCA-specific characteristic, method of GCA diagnosis, and how a delay in diagnosis had been defined. GCA-specific characteristics were examined within three categories, namely (1) commonly-reported GCA symptoms (polymyalgic symptoms, visual manifestation, visual loss, headache, jaw claudication and scalp tenderness); (2) subtype of GCA (cranial or non-cranial, presence or absence of PMR, positive or negative biopsy result); and (3) sample demographic (age, geographical location and sex).
Quality assessment
Two reviewers (JAP & TH) assessed the quality of the final articles using a modified version of the Newcastle-Ottawa quality assessment scale for cohort studies. Though articles could be cross-sectional, case–control or cohort in design, several criteria were chosen from the cohort version of the Newcastle-Ottawa tool as this best represented the qualities required.
Data synthesis
The primary outcome of interest was the mean number of weeks between symptom onset and GCA diagnosis, with an accompanying estimate of variation (standard deviation (SD)); however, several articles reported data in other formats. Where possible, the corresponding author was contacted and data requested in the required format. Where data were not provided, data were converted to allow direct comparisons between datasets. Data conversion could occur in three instances, depending on the originally reported format. Firstly, if delay was reported in days or months, these values were converted to weeks. Secondly, if an article had reported the variance around a mean using a low to high range, then this was converted to a SD (using a formula from Hozo et al. [
22
], low to high range data was used to generate an imputed SD [
23
]). Thirdly, the SD for each dataset was converted to a standard error (SD/√n) for use in the meta-analysis.
Analysis
All articles included in the systematic review were initially examined using a narrative synthesis, comparing the characteristics of these articles. Random-effects meta-analysis was used to report a pooled mean number of weeks (95% confidence interval (CI)) between symptom onset and GCA diagnosis. This meta-analysis was presented as a forest plot, with heterogeneity initially assessed using the
I
2
statistic and then using 95% prediction intervals (PI) as advocated by Riley et al. [
24
]; 95% PIs may be added to summary results from random-effects meta-analyses to illustrate heterogeneity of effects that may not be fully conveyed by the 95% CI. Where there is a wide distribution of effect estimates with little overlap in confidence intervals, 95% PI can highlight a range of effects at the individual level across study settings and can prove more useful in clinical practice than a summary
I
2
value.
Because the SD required imputation for several articles, sensitivity analyses were performed, firstly examining only those articles which originally reported SD, secondly only those articles which required imputation of SD, and thirdly those restricting GCA definition to biopsy-positive cases only. Finally, the extent of delay relating to GCA-specific characteristics was reported, with random-effects meta-analysis being conducted where there were a sufficient number of articles to do so.
Results
Discussion
This systematic review and meta-analysis examined the extent of delay between first experiencing symptoms related to GCA and receiving a confirmatory GCA diagnosis, finding the mean time-period of diagnostic delay to be 9 weeks. Also of interest was how diagnostic delay is influenced by GCA-specific characteristics. Here, we found that even when patients present with distinct cranial symptoms, the delay in finally receiving a GCA diagnosis remains substantial (8 weeks) and is longer still for those with non-cranial symptoms (18 weeks). Such findings are of concern, as previous research has reported that as few as half of GCA patients can experience temporal headaches [
3
].
Achieving a prompt and accurate diagnosis of GCA remains challenging, demonstrated by typically wide and skewed time-periods of delay within individual studies. It was not uncommon for time-periods of delay to range from a single day in one patient, to a year in another from the same study. Further research is needed to fully describe the characteristics of patients experiencing both short and long periods of delay. When a patient presents to the clinician with mainly constitutional symptoms, such as fever or malaise, diagnosis is more challenging as these symptoms are common and frequently occur in other, more prevalent disorders. However, patients who present with classic cranial GCA or typically associated symptoms (e.g. headache, PMR) still experience a prolonged period of diagnostic delay, highlighting the need for an increased awareness of all facets of this condition.
Diagnostic delay is a common problem in many conditions. For example, a median 9-week delay has been identified in diagnosing childhood brain tumours [
50
], and a 24-week median delay in rheumatoid arthritis (RA) [
51
]. As the delay in receiving a diagnosis for such conditions has been shown to have negative effects on outcomes, much research has looked to reduce this respective diagnostic delay. It remains unclear at what point(s) in the patient pathway the greatest potentially avoidable delay is incurred [
52
]. Raza et al. [
51
] examined the reasons for delay in assessment of RA across Europe. They found that delays in receiving a RA diagnosis could be related to the time taken for (1) the patient to consult healthcare after symptom onset, (2) the patient to be given an appointment, (3) the primary care clinician to refer the patients to secondary care, and (4) the patient to receive a secondary care appointment; the extent of delay at each point varied across countries. There may also be more specific reasons for delay, for example, varying test availability (i.e. ultrasonography) due to different service provision by geographical region or local funding allocation. Linked to variations in the point at which delay occurs, the terminology of delay should also be reconsidered. Future research should make the distinction between 'consultation delay' (the period from symptom onset to receiving a consultation) and 'diagnostic delay' (the time between first consultation and final diagnosis). This acknowledges that clinical diagnosis is not possible until the patient initiates contact with a health professional. Research has demonstrated that through disease awareness programmes it is possible to reduce delay at any stage of the disease pathway [
19
] and thus the importance of our review exists in determining an evidence-based baseline level of delay in GCA diagnosis that future studies must attempt to reduce.
The strength of this systematic review and meta-analysis is that it provides the first systematic approach to pool diagnostic delay of GCA in the world literature. We have also collated those articles that have examined delay related to specific GCA characteristics to identify barriers to receiving a prompt diagnosis.
The primary limitation of our research is that heterogeneity may have been introduced due to the way in which delay data were recorded. In each article, delay was a secondary outcome and little (or no) information was provided on how this information was obtained, for example, as part of routinely recorded clinical care (either contemporaneously or retrospectively) or whether patients were asked as part of the study protocol. However, as the majority of articles did define delay through the same phrasing (the time between GCA symptom onset and GCA diagnosis), the manner in which this was collected may be less important. Furthermore, though more detail on the mechanisms of delayed GCA diagnosis would be of great benefit, from the perspective of the patient or clinician, this is the best data that we presently have to understand the current issue of delay and therefore provides our best estimate to date.
Several articles report diagnostic delay data which is skewed. Though this may be considered as an influence on our final pooled values, standard meta-analytic methods assume normality in the distribution of the means (but not the raw data) and they are valid when sample sizes within individual studies are sufficient to enable the central limit theorem to hold. Related to the variance observed within articles, our meta-analyses reported high levels of heterogeneity. Though this is to be expected due to the high level of variance of delay reported, the study populations used in the meta-analyses were similar in the characteristics of age, proportion of females, two-thirds had defined GCA using a positive temporal artery biopsy (sensitivity analysis showed no difference in delay) and all but two patient samples were from secondary care. Despite this, it should be noted that data included in the meta-analysis did cover a wide time range (1950–2013), in which disease awareness and diagnostic methods will have varied. However, overall, we are confident that our meta-analysis, using reported mean values, provides the best estimate available of diagnostic delay in GCA patients.
Conclusions
Despite the reported time-period of diagnostic delay being considerably varied within some article samples, on average, patients experience a 9-week delay between the onset of their symptoms and receiving a diagnosis of GCA. Even when the patient has a 'classical' cranial presentation, delay remains considerable. In view of the potentially serious consequences of a missed GCA diagnosis, a reduction in diagnostic delay would be beneficial and could result in overall cost savings for healthcare systems [
53
]. Our research provides a new evidence-based benchmark of diagnostic delay of GCA against which future efforts to reduce this problem can be measured and supports the need for improved public awareness and fast-track diagnostic pathways.
Acknowledgements
Thanks are given to Keele staff that supported the study.
Funding
JP is funded through a Launching Fellowship by the NIHR School for Primary Care Research (SPCR), HR is funded through an INSPIRE Summer Studentship, coordinated by the Academy of Medical Sciences and funded by the Wellcome Trust, TH is funded by an NIHR Clinical Lectureship in General Practice, SLM is funded by a NIHR Clinician Scientist Fellowship award. CDM is funded by the NIHR Collaborations for Leadership in Applied Health Research and Care (CLAHRC) West Midlands, the NIHR SPCR, and a NIHR Research Professorship in General Practice (NIHR-RP-2014-04-026). The study sponsors had no role in study design, in the collection, analysis and interpretation of data, in the writing of the report, or in the decision to submit the paper for publication. The views and opinions expressed herein are those of the authors and do not necessarily reflect those of the NIHR (UK). This paper presents independent research which is part-funded by the CLAHRC West Midlands. The views expressed are those of the authors and not necessarily those of the NHS, the NIHR or the Department of Health.
Availability of data and materials
Not applicable.
Authors' contributions
Authors had access to all the study data, take responsibility for the accuracy of the analysis, and had authority over the manuscript and the decision to submit for publication. Guarantor of overall study integrity: JAP and CDM. Study concept and design: JAP, JL and CDM. Data collection and interpretation: JAP, HR, JB, SLM, TH, JL and CDM. Statistical analysis: JAP and JB. Manuscript preparation: JAP, SLM, JB, TH, JL and CDM. Final approval of manuscript: JAP, HR, SLM, JB, TH, JL and CDM. All authors read and approved the final manuscript.
Competing interests
The authors declare that they have no competing interests.
Ethics approval and consent to participate
Not applicable.
Publisher's Note
Springer Nature remains neutral with regard to jurisdictional claims in published maps and institutional affiliations.
Open Access
This article is distributed under the terms of the Creative Commons Attribution 4.0 International License (
http://​creativecommons.​org/​licenses/​by/​4.​0/​
), which permits unrestricted use, distribution, and reproduction in any medium, provided you give appropriate credit to the original author(s) and the source, provide a link to the Creative Commons license, and indicate if changes were made. The Creative Commons Public Domain Dedication waiver (
http://​creativecommons.​org/​publicdomain/​zero/​1.​0/​
) applies to the data made available in this article, unless otherwise stated.