01.12.2018 | Research article | Ausgabe 1/2018 Open Access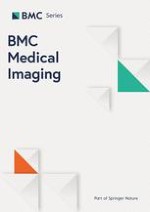 Diagnostic efficacy of multiple MRI parameters in differentiating benign vs. malignant thyroid nodules
Zeitschrift:
Autoren:

Hao Wang, Ran Wei, Weiyan Liu, Yongqi Chen, Bin Song
Abbreviations
ADC
Apparent diffusion coefficient
DWI
Diffusion weighted imaging
FNAB
Fine-needle aspiration biopsy
FNAC
Fine-needle aspiration cytology
ROC
Receiver operator characteristic
TI-RADS
Thyroid Imaging Reporting and Data System
Background
About, 19–67% of the healthy, asymptomatic individuals are diagnosed with nodules of the thyroid [
1
]. Malignant thyroid nodules account for 5–15% of all thyroid nodules [
2
,
3
]. With the rapid economic development of China, healthcare access and screening are improving in China and the detection and prevalence of thyroid nodules is reaching epidemics proportions, from 8% in 2002 to 25% in 2013 [
4
], as has been observed in developed countries [
5
].
Although ultrasound (US) is widely used to detect thyroid nodules and determine their malignant potential, the US features and index of each grade of the Thyroid Imaging Reporting and Data System (TI-RADS) remain controversial [
6
,
7
]. US-guided fine-needle aspiration biopsy (FNAB) is widely used for the diagnosis of thyroid nodules [
7
]. Nevertheless, up to 7% of the nodules yield non-diagnostic cytology and an additional 15–30% of fine-needle aspiration cytology (FNAC) show an indeterminate cytology [
7
,
8
].
DWI reflects the random Brownian motion of water molecules within a voxel of tissue. The movement of the tissue water molecules between the two opposing gradients will result in dephasing, which is seen as signal loss. ADC can be quantified calculated with repeating the sequence in different magnetic field strengths [
9
]. The ADC depends largely on the presence of barriers to diffusion within the water microenvironment, namely, cell membranes and macromolecules [
10
]. Malignant thyroid nodules usually have a lower ADC value compared to benign nodules [
11
–
15
], but this is controversial [
16
] and most of these studies used relatively low b values (< 500 × 10
− 3
/m
2
) [
11
,
14
]. DWI has been shown to be of diagnostic value for Graves' Disease [
17
], but DWI studies of thyroid nodules are relatively rare because the head and neck region is very heterogeneous and contains a variety of tissues that include fat, muscle, air, soft tissues, glands, and bones. In addition, MRI is more expensive and less available than US. Nevertheless, US has 40–80% sensitivity and 40–96% specificity for malignant thyroid nodules, highlighting the need for complementary examinations. In addition, previous DWI studies of thyroid nodules focused on the ADC [
11
,
12
,
14
,
16
,
18
].
Therefore, in the present study, we sought to improve the image quality with a special coil on the neck surface and a breath-hold technique, and to investigate the value of multiple MRI parameters for the diagnosis of thyroid carcinoma. Quantitative and qualitative parameters were examined.
Methods
Patients
This was a retrospective diagnostic study. Between January 2013 and December 2016, 479 consecutive patients underwent thyroidectomy at our hospital. Among them, 254 patients had undergone MRI examination within one week before surgery at the Department of Radiology. This study was approved by the institutional review board of our hospital. The requirement for individual written informed consent was waived.
The inclusion criteria were: 1) thyroid nodule that underwent surgery; and 2) available MRI data obtained within one week of surgery. The exclusion criteria were: 1) lesion size < 3 mm by US (
n
 = 39); 2) poor image quality deemed to be non-diagnostic after review (
n
 = 15); or 3) lesions with complete cystic changes (
n
 = 19).
Among the 181 patients included, 140 patients underwent subtotal thyroidectomy, 25 underwent lobectomy, and 16 underwent total thyroidectomy.
Multiparametric MRI protocol
MRI was performed with a 1.5 T scanner (EXCITE HD GE Healthcare, Waukesha, WI, USA) equipped with an 8-channel special neck surface coil (Chenguang Medical Technology Ltd., Shanghai, China). All patients were examined using the same machine, coil, and scan series.
The MR imaging protocol included T1-weighted image(T1WI), T2-weighted image(T2WI), DWI, and contrast enhanced T1WI of thyroid. Coronal fat-suppressed T2WI (repetition time (TR)/ echo time (TE), 1280 ms/85 ms; slice thickness; 4 mm; gap, 1 mm; matrix, 288 × 192; number of excitations (NEX), 4; field of view (FOV), 18 cm); axial T1WI (TR/TE, 460 ms/8 ms; slice thickness, 4 mm; gap, 0.5 mm; NEX, 2; FOV, 14 cm; matrix, 288 × 192); axial fat-suppressed T2WI (TR/TE, 3000 ms/85 ms, slice thickness, 4 mm; gap, 0.5 mm; NEX, 4;FOV, 14 cm; matrix, 320 × 224). DWI was performed using a single-shot echo planar imaging sequence with the diffusion gradient b factor = 800 s/mm 2. Imaging parameters for DWI were: TR/TE, 6550 ms/minimum; FOV, 14 cm; NEX, 4; matrix, 128 × 128; slice thickness, 4 mm; and gap = 0.5 mm. Contrast enhancement studies were implemented using axial T1WI obtained with a fast-spoiled gradient recalled echo (TR/TE, 5.7 ms/1.7 ms; FOV, 14 cm; matrix, 192 × 256; NEX, 1). Gadolinium (Magnevist, Bayer HealthCare Pharmaceuticals, Montville, NJ, USA) was intravenously injected at 0.2 ml/kg body weight and 3 ml/s, followed by a 20 ml saline flush. In each patient, a phase was performed prior to the injection of contrast medium. Six phases were obtained after injection of the contrast agent at 30, 60, 120, 180, 240, and 300 s. In the contrast-enhanced protocol, breath-hold was performed during each phase. Spatial saturation bands were also used to remove signal from overlying fat and adjacent tissues. All patients received training on the breath-hold technique before the MRI examination.
Image analysis
Two radiologists (13 and 18 years of MRI experience) reviewed all images using an AW4.5 workstation (GE Healthcare, Waukesha, WI, USA). Each radiologist was blinded to histopathology results. All images were reviewed independently by the two radiologists. Discrepancies were solved by discussion.
Lesions were evaluated for location, size (the largest linear dimension of nodules), shape (regular or irregular), margin (clear or vague), signal intensity heterogeneity (homogeneous or heterogeneous on T2WI), cystic degeneration, high signal cystic area on T1WI, ADC value of solid tumor area, and degree and pattern of enhancement. ROI (region of interest) of solid tumor area were manually drawn in the largest slice of lesions on ADC maps. The solid tumor areas were defined as a bright signal intensity identified on DWI images and dark signal intensity on ADC maps. Meanwhile, obvious areas of cystic changes, hemorrhage, calcification, and lesion margins need to avoid based on combined T2WI, contrast enhanced T1WI and DWI. The size of ROIs was determined to correspond with the darkest portion of lesions on ADC maps ranged 10-50 mm 2. The ADC values were measured twice and then the average value was taken.
In this study, blood vessels, thyroid tissue, and muscles were used to assess subjectively the degree of early enhancement of the nodule, which was categorized as: mild (the enhancement was similar to that of adjacent muscle tissues); moderate (the enhancement was higher than that of adjacent muscle tissues but lower than that of blood vessels); and marked (the enhancement approached that of blood vessels). The pattern of enhancement reflected the dynamic contrast enhancement of thyroid nodules after the injection of the contrast agent in the delayed phase with 'wash in' or 'wash out'. The ring sign was defined as the central area of the nodule showing 'wash out', whereas the peripheral area showed persistent enhancement. The pseudocapsule sign was defined as the tumor area showing a clear capsule after contrast agent administration in the delayed phase.
Statistical analysis
Categorical data were presented as percentage and analyzed using the chi-square test. Continuous data were tested using the Kolmogorov-Smirnov test. Normally distributed continuous data were presented as means ± standard deviation and analyzed using the Student t test. Non-normally distributed data were presented as medians (range). All statistical analyses were performed with SPSS 23 (IBM, Armonk, NY, USA). Two-sided
P
-values < 0.05 were considered statistically significant. Binary logistic regression was used to identify the features that were independently predictive of malignant thyroid tumor. Variables demonstrating a significant association with malignant thyroid lesions were entered into the model in a forward stepwise method. The final model was selected based on variables with
P
 < 0.05. The odds ratios (OR) and 95% confidence intervals (95%CI) were used as a measure of the relative magnitude of an association between predictor variables and malignant tumor. ROC curves were used to determine the cutoff value to differentiate the parameters of malignant from benign tumors.
Results
Discussion
Conclusions
Multiple MRI parameters could be helpful to differentiate malignant thyroid nodules from benign nodules. The logistic regression showed that ADC value could discriminate between benign and malignant thyroid nodules with a good performance. Subjective signs such as the ring sign, irregular shape, and cystic degeneration associated with malignant thyroid nodules could provide complementary information for differentiation. Combining subjective MRI features to a quantitative measurement could improve the diagnostic performance of MRI for malignant thyroid nodules.
Acknowledgments
We thank all members of the Department of Radiology, Minhang Branch, Zhongshan Hospital, Fudan University, and all members of the Department of Pathology and General Surgery for helpful discussions and invaluable help in manuscript preparation. We also express our most sincere thanks to Jiliang Ren for revising this manuscript.
Funding
This project was funded by the Shanghai Municipal Commission of Health and Family Planning,China (No. 201740242) and the Science and Technology Commission of Minhang District, Shanghai,China (No. 2015MHZ026).
Availability of data and materials
The data set supporting the results of this article are included within the article. Data and materials are available at request. Please contact the author for data requests.
Ethics approval and consent to participate
This study had approval from the Institutional Review Board of Minhang Branch, Zhongshan Hospital, Fudan University, and written informed consent was obtained from patients.
Consent for publication
Not applicable.
Competing interests
All authors declare that they have no competing interests.
Publisher's Note
Springer Nature remains neutral with regard to jurisdictional claims in published maps and institutional affiliations.
Open Access
This article is distributed under the terms of the Creative Commons Attribution 4.0 International License (
http://​creativecommons.​org/​licenses/​by/​4.​0/​
), which permits unrestricted use, distribution, and reproduction in any medium, provided you give appropriate credit to the original author(s) and the source, provide a link to the Creative Commons license, and indicate if changes were made. The Creative Commons Public Domain Dedication waiver (
http://​creativecommons.​org/​publicdomain/​zero/​1.​0/​
) applies to the data made available in this article, unless otherwise stated.