01.12.2017 | Research | Ausgabe 1/2017 Open Access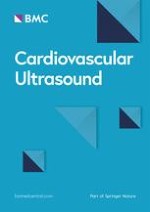 Diagnostic performance of multi-organ ultrasound with pocket-sized device in the management of acute dyspnea
Zeitschrift:
Autoren:

Alfonso Sforza, Costantino Mancusi, Maria Viviana Carlino, Agostino Buonauro, Marco Barozzi, Giuseppe Romano, Sossio Serra, Giovanni de Simone
Abbreviations
IUE
Integrated ultrasound examination
NPV
Negative predictive value
PPV
Positive predictive value
Background
Acute dyspnea is one of the most frequent symptoms of patients presenting to the emergency department (ED), with about 4–5 million hits per year in the United States [
1
]. The differential diagnosis is often challenging especially to distinguish between dyspnea of cardiac origin (CD) and dyspnea of other causes. Medical history, physical examination, blood gas analysis, electrocardiogram, laboratory tests and chest X-rays are essential in the diagnostic process, but sometimes not enough and often difficult to obtain instantaneously. For these reasons, about 20% of patients who logs in ED for dyspnea receive incorrect diagnosis and consequently inadequate therapy [
2
].
Focused cardiac ultrasound plays an important role in the diagnostic evaluation of the patient at bedside and it is important for triage decisions and emergency treatment [
3
]. Large amount of information can be also obtained using lung ultrasound (LUS) especially in the identification and evaluation of pleuro-pulmonary diseases and in the evaluation of extra-vascular lung water [
4
,
5
]. Utility of LUS has been recently tested to help discriminating causes of acute dyspnea in ED, with or without simultaneous evaluation of heart and inferior vena cava (IVC) [
6
,
7
]. Using pocket-size imaging device also the assessment of extravascular lung water with evaluation of B-lines and pleural effusion is feasible and reliable [
8
].
In the setting of ED standard echocardiographic equipment may be heavy and difficult to handle while hand-carried ultrasound devices have been developed for bedside use. In particular, the ultrasound technology pool has been enriched with pocket ultrasound devices that offer advantages in terms of portability and speed, and are able to reproduce images with standard ultrasound and color Doppler. These devices can be used as first ultrasound approach in ED and ambulance and confer added diagnostic power to the clinical examination in populations of patients with no history of cardiovascular disease [
9
,
10
].
Informations on accuracy of first diagnostic assessment with pocket ultrasound device in immediate differential diagnosis for acute dyspnea in ED are still deficient. The aim of this study is to test the utility and accuracy of LUS alone or combined with ultrasound of the heart and IVC in the identification of CD with pocket ultrasound device in ED.
Methods
Another emergency physician expert in lung and cardiac ultrasound read all images, blind to the final diagnosis from the ED.
Results
Discussion
In a population of patients presenting to the ED for the recent onset of acute dyspnea the integrated ultrasound examination of Lung-Heart-IVC with a pocket size device is feasible and has reliable diagnostic value for the diagnosis of dyspnea of cardiac origin.
The combination of bilateral IS/effusion and EF ≤40% has a better accuracy than the association between bilateral IS/effusion and dilated and not collapsing IVC for the diagnosis of CD. The contemporary presence of all three ultrasound abnormalities has not an optimal accuracy, especially because of the poor sensitivity.
Consistently, the association between bilateral IS/effusion and only 1 of the cardiovascular abnormalities (EF ≤40% or dilated and not collapsing IVC) improves the sensitivity and accuracy compared to the association between bilateral IS/effusion and EF ≤ 40%, because it captures also patients with HF with preserved ejection fraction among whom many have dilated and not collapsing IVC.
Conclusions
Overall, the integrated lung-heart-IVC ultrasound examination improves the accuracy of LUS alone, by maximizing specificity, and allowing to capture different types of heart failure. This makes pocket ultrasound devices useful for the efficiency and speed in the differential diagnosis of acute dyspnea in the ED.
The IUE of lung-heart-inferior vena cava with pocket ultrasound devices is an extension of the clinical examination and can be realized with a protocol that provides 4 thoracic scans (2 front and 2 lateral), at least one view (parasternal and/or apical and/or subcostal) which enables the assessment of LV systolic function and the subcostal view for the inferior vena cava. This method is readily available at bedside or even in ambulance, requires few minutes and has reliable diagnostic accuracy in the management of acute dyspnea.
Acknowledgements
None.
Funding
All the Authors do not receive any founding related to this manuscript.
Availability of data and materials
Authors do not wish to share their data. All the data published in original papers belongs to Hypertension Research Center, University of Naples Federico II.
Authors' contributions
AS selected the patients, performed US and supervised data collections. AS and CM conceived the manuscript and coordinate to draft the manuscript, MVC, AB, MB, SS and GdS helped to draft the manuscript, gave conceptual help and prepared the tables, GdS provided statistical advice, managed quality control and manuscript revision. All authors read and approved the final manuscript.
Competing interests
The authors declare that they have no competing of interests.
Consent for publication
Not applicable.
Ethics approval and consent to participate
All patients gave their informed consent to ultrasound examination (relatives consented for un-capable patients).
Publisher's Note
Springer Nature remains neutral with regard to jurisdictional claims in published maps and institutional affiliations.
Open Access
This article is distributed under the terms of the Creative Commons Attribution 4.0 International License (
http://​creativecommons.​org/​licenses/​by/​4.​0/​
), which permits unrestricted use, distribution, and reproduction in any medium, provided you give appropriate credit to the original author(s) and the source, provide a link to the Creative Commons license, and indicate if changes were made. The Creative Commons Public Domain Dedication waiver (
http://​creativecommons.​org/​publicdomain/​zero/​1.​0/​
) applies to the data made available in this article, unless otherwise stated.