22.03.2017 | Original Article | Ausgabe 3/2018 Open Access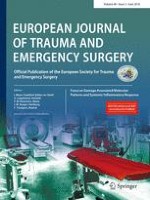 Diagnostic strategies for posttraumatic osteomyelitis: a survey amongst Dutch medical specialists demonstrates the need for a consensus protocol
Zeitschrift:
Autoren:

G. A. M. Govaert, A. W. J. M. Glaudemans, J. J. W. Ploegmakers, A. R. Viddeleer, K. W. Wendt, I. H. F. Reininga
Abstract
Introduction
Posttraumatic osteomyelitis (PTO) is a feared complication after surgical fracture care. Late diagnosis can result in interrupted and prolonged rehabilitation programmes, inability to work, medical dependency, unnecessary hospital admissions, and high medical and non-medical costs. Primary aim of this study was to assess preferred diagnostic imaging strategies for diagnosing PTO amongst orthopaedic and trauma surgeons, radiologists, and nuclear medicine physicians. Secondary aims were to determine the preferred serum inflammatory marker for diagnosing PTO and the existence of a local hospital protocol to diagnose and manage PTO.
Materials and methods
This study utilised an online survey based on four clinical scenarios, varying from early to late onset of PTO. It was designed to assess individual practitioners' current preferred diagnostic strategy for diagnosing PTO. Eligible study participants were medical specialists and registrars in orthopaedic and trauma surgery, musculoskeletal (MSK) radiology, and nuclear medicine.
Results
There were 346 responders: 155 trauma surgeons, 102 orthopaedic surgeons, 57 nuclear medicine physicians, and 33 MSK radiologists. Trauma surgeons favour FDG-PET to image PTO, while orthopaedic surgeons prefer WBC scintigraphy. A similar difference was seen between radiologists and nuclear medicine physicians (MRI versus nuclear medicine imaging). CRP was regarded as the most useful serum inflammatory marker. Only one-third of all responders was aware of a local hospital protocol for the treatment of osteomyelitis.
Conclusions
The availability of and awareness towards local protocols to diagnose and treat PTO is poor. The results of this study support the need for future randomised controlled trials on optimal diagnostic strategies for PTO.