01.03.2014 | Original Article | Ausgabe 1/2014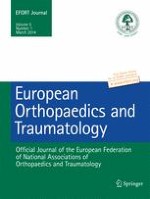 Diagnostic value of 3D fast imaging employing steady-state acquisition MR imaging for lumbar foraminal nerve root entrapment
Zeitschrift:
Autoren:

Osamu Nemoto, Akira Fujikawa, Atsuko Tachibana
Abstract
Background and purpose
Conventional magnetic resonance imaging (MRI) may fail to diagnose lumbar foraminal nerve root entrapment (LFNRE). Recently, it has been reported that three-dimensional fast imaging employing steady-state acquisition (3D FIESTA) is useful for demonstrating the cranial nerves and spinal cord. However, its application to lumbar nerve root has not been investigated. The purpose of this study was to evaluate the usefulness of 3D FIESTA in the diagnosis of LFNRE.
Subjects and methods
We retrospectively selected 33 male patients, with an average age of 51.6 years, who met the following criteria: (1) single L4 or L5 radiculopathy, (2) pain reproduction during provocative radiculography, and (3) improvement of symptoms after surgery. In all patients, LFNRE was observed at surgery. There were 15 cases with lumbar foraminal stenosis (LFS), 12 cases with lateral disc herniation (LDH), and 6 cases with spondylolytic listhesis (SL). We compared the symptomatic nerve root to the asymptomatic nerve roots on conventional two-dimensional MRI and 3D FIESTA images.
Results
In the symptomatic nerve roots, visualization of entrapment by conventional MRI was demonstrated in 60, 92, and 33 % of the cases with LFS, LDH, and SL, respectively. In contrast, 3D FIESTA clearly visualized the entrapment in all cases.
Conclusions
3D FIESTA imaging revealed an excellent view of the lumbar nerve roots, compared with conventional MRI. Therefore, we suggest that 3D FIESTA adds additional and more specific information for the investigation of LFNRE.