01.12.2019 | Research article | Ausgabe 1/2019 Open Access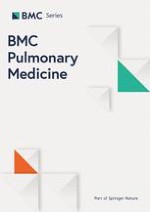 Diagnostic yield and risk/benefit analysis of trans-bronchial lung cryobiopsy in diffuse parenchymal lung diseases: a large cohort of 699 patients
Zeitschrift:
Autoren:

Claudia Ravaglia, Athol U. Wells, Sara Tomassetti, Carlo Gurioli, Christian Gurioli, Alessandra Dubini, Alberto Cavazza, Thomas V. Colby, Sara Piciucchi, Silvia Puglisi, Marcello Bosi, Venerino Poletti
Abstract
Background
Standardization of trans-bronchial lung cryobiopsy in diffuse parenchymal lung diseases is imminent; however, the majority of published series on cryobiopsy include a limited number of patients and are characterized by several differences in procedural technical details.
Methods
This is an observational, retrospective cohort study. Aim of the study was to suggest some sampling strategies related to transbronchial cryobiopsy in the diagnostic work-up of patients with diffuse parenchymal lung diseases.
Results
Six hundred ninety-nine patients with suspected diffuse parenchymal lung disease were recruited. A specific pathological diagnosis was achieved in 614/699 cases (87.8%) and a multidisciplinary diagnosis was obtained in 630/699 cases (90.1%). Diagnostic yield was significantly influenced by the number of samples taken (1 vs ≥ 2 biopsies,
p
 < 0.005). In 60.4% of patients, biopsies were taken from one site and in 39.6% from different sites (in the same lobe or in two different lobes), with a significant increase in diagnostic yield, specifically in patients with fibrotic lung diseases (65.5% vs 93.4%,
p
 < 0.0001). The 2.4 mm or 1.9 mm probes were used, with no differences in terms of diagnostic yield. Regarding safety, pneumothorax occurred in 19.2% and was influenced by baseline lung function; in all patients Fogarty balloon has been used and severe haemorrhage occurred in 0.7% of cases. Three patients (0.4% of cases) died within 30 days after the procedure.
Conclusions
We propose some sampling strategies of cryobiopsy which seem to be associated with a higher diagnostic yield and a favorable risk/benefit ratio: sampling at least two samples in different sites, using either the 2.4 mm or the 1.9 mm probe, intubating the patients and using bronchial blockers/catheters.