10.09.2021 | Diagnostik in der Schmerzmedizin | Pain Clinical Updates | Ausgabe 6/2021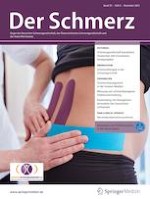 Nervenkompressionssyndrome – eine aktuelle Betrachtung von Pathophysiologie, klinischer Untersuchung und Management
Deutsche Fassung
Zeitschrift:
Autoren:

Annina B. Schmid, Joel Fundaun, Brigitte Tampin
Wichtige Hinweise
Deutsche Fassung von: Schmid AB, Fundaun J, Tampin B (2020) Entrapment neuropathies: a contemporary approach to pathophysiology, clinical assessment, and management. Pain Clinical Updates in Pain Reports. PR9 5 (2020) e829.
https://​doi.​org/​10.​1097/​PR9.​0000000000000829​
. Publikation auf Deutsch mit Genehmigung der International Association for the Study of Pain und der Autoren. Verantwortlich: Frau Prof. Dr. C. Sommer, Würzburg
×
QR-Code scannen & Beitrag online lesen
Zusammenfassung
Nervenkompressionssyndrome ("Engpass-Syndrome") wie Karpaltunnelsyndrom, Radikulopathien oder radikulärer Schmerz sind die häufigsten peripheren Nervenläsionen und auch die häufigste Ursache für neuropathischen Schmerz. Trotz ihrer hohen Prävalenz stellen sie diagnostisch und therapeutisch weiterhin oft eine klinische Herausforderung dar. Die vorliegende Übersicht bietet aktuelle Informationen zur Ätiologie und Pathophysiologie von Nervenkompressionssyndromen; dafür wird die Evidenz aus präklinischen wie auch klinischen Studien zusammengefasst. Mögliche Mechanismen werden in den Kontext klinischer Befunde gestellt. Das aktuelle diagnostische Vorgehen wird erörtert, diagnostische Fallstricke werden beleuchtet. Zuletzt fasst der Beitrag die Evidenz für die nichtinvasive und chirurgische Therapie häufiger Nervenkompressionssyndrome zusammen und zeigt zukünftige Forschungsbereiche auf.