07.09.2018 | In der Diskussion | Ausgabe 10/2018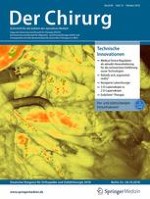 Die proximale Humerusfraktur – Wo stehen wir heute?
Ein Kommentar zur "Proximal fracture of the humerus evaluation by randomization (PROFHER)"-Studie
Zeitschrift:
Autoren:

PD Dr. med. N. Hawi, E. Liodakis, S. Razaeian, R. Meller, C. Krettek
Zusammenfassung
Die PROFHER-Studie ist eine multizentrische randomisiert kontrollierte Studie bei der 250 von 1250 auf Eignung geprüfte Patienten mit dislozierter proximaler Humerusfraktur unter Beteiligung des chirurgischen Halses entweder der Operation oder dem konservativen Therapieregime zugeführt wurden. Zu den Ausschlusskriterien zählten neben Komorbiditäten, die eine operative Versorgung ausschließen, und einer mangelnden geistigen Leistungsfähigkeit sowohl die Luxationsfrakturen als auch für die Autoren klare Operationsindikationen. Die Ergebnisse wurden mittels standardisierter Beurteilung durch den Patienten selbst ("patient reported outcome" [PRO], "self-assessment") u. a. durch den Oxford-Shoulder-Score (OSS) festgehalten. Die Ergebnisse zeigten sowohl nach 2 und nach 5 Jahren keinen Unterschied in den primären und sekundären Self-assessment-outcome-Scores. Obwohl sich im untersuchten Patientenkollektiv keine Unterschiede zwischen den beiden Gruppen zeigten, kann die PROFHER-Studie keine klare Aussage darüber treffen, welcher Patient von einer operativen Therapie profitieren würde. Trotzdem bietet die PROFHER-Studie eine wertvolle und wichtige Ergänzung der Literatur zu diesem stark diskutierten Thema. Ziel dieses Reviews ist die kritische Bewertung der PROFHER-Studie im Rahmen der vorhandenen Literatur u. a. in Bezug auf Patienteneinschluss, Frakturversorgung und Evaluierung der Ergebnisse.