17.07.2019 | Originalien | Ausgabe 5/2019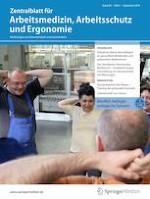 Die "Revidierten Dortmunder Richtwerte"
Erweiterte Zusammenstellung von Autopsiematerial-Messungen der statischen lumbalen Kompressionsfestigkeit zur Ableitung von Referenzwerten für eine ergonomische Arbeitsgestaltung
Autor:

PD Dr. Matthias Jäger
Wichtige Hinweise
Bei diesem Beitrag handelt es sich um eine Übersetzung der Originalpublikation Jäger M (2018) Extended compilation of autopsy-material measurements on lumbar ultimate compressive strength for deriving reference values in ergonomic work design: The Revised Dortmund Recommendations. EXCLI Journal 17:362–385.
https://​doi.​org/​10.​17179/​excli2018-1206
Zusammenfassung
Hintergrund
Für eine ergonomische Arbeitsgestaltung sind Maße zur körperlichen Leistungsfähigkeit des Menschen erforderlich. Zur Vermeidung einer biomechanischen Überlastung der Lendenwirbelsäule werden Kriterien zur Unterscheidung von Belastung und Überlastung benötigt. Im Hinblick auf die Bewertung von manuellen Lastenhandhabungen und ähnlichen körperlichen Belastungen in Bezug auf eine potenzielle Überlastung wird in einem etablierten biomechanischen Ansatz die Druckkomponente der über Bandscheiben oder Wirbelkörper übertragenen Kräfte mit der Kompressionsfestigkeit von Lendenwirbelsäulensegmenten verglichen.
Methodik
Da die mechanische Festigkeit nicht direkt am Lebenden quantifiziert werden kann, werden Kräfte auf isolierte Wirbelsäulensegmente bis zu deren Schädigung aufgebracht, was als Maß für die maximale Belastbarkeit oder Toleranzgrenze bezüglich Kompressionsbelastung angesehen wird. Entsprechende in der Literatur angegebene Messungen an Autopsiematerial wurden gesammelt und auf verschiedene Bedingungen hin geprüft: Ein Segment besteht mindestens aus einem kompletten Wirbelkörper oder einer Bandscheibe einschließlich der angrenzenden Endplatten; der Schaden wird eindeutig der Lendenwirbelsäule zugeordnet; die Aufprägung der Druckkraft ist quasistatisch; die Ergebnisse repräsentieren einzelne Messwerte usw.
Ergebnisse
Derzeit wurden 66 neu gefundene, anscheinend geeignete Studien auf Basis einer systematischen Literaturrecherche gesammelt, von denen 11 für die nachfolgende Analyse berücksichtigt wurden. Annähernd 4000 Werte wurden zusammengetragen, wovon 1192 für die Analyse verblieben. Die Kompressionsfestigkeit der menschlichen Lendenwirbelsäule variiert zwischen 0,6 und 15,6 kN, Mittelwert und Standardabweichung betragen 4,84 ± 2,50 kN. Die Verteilungen für Spenderpersonen mit angegebenem Geschlecht und Alter ab 20 Jahren sind durch 6,09 ± 2,69 kN für männliche Erwachsene (
n
 = 305) und 3,95 ± 1,79 kN für weibliche Erwachsene (
n
 = 205) gekennzeichnet. Bei Annahme eines linearen Regressionsmodells für Spender ab 20 Jahren nimmt die Festigkeit mit zunehmendem Alter deutlich ab: 10,43 kN minus 0,923 kN je Jahrzehnt bei Männern und 7,65 kN minus 0,685 kN pro Altersdekade bei Frauen. Auf Basis dieser geschlechtsspezifischen altersabhängigen Zusammenhänge wurden die "Revidierten Dortmunder Richtwerte" abgeleitet, die einen Bereich zwischen 5,4 kN für Männer im Alter von 20 Jahren und 2,2 kN bei Männern ab 60 Jahren umfassen. Die entsprechenden empfohlenen Grenzen für Frauen betragen 4,1 bzw. 1,8 kN. Eine spezifische Sicherheitsreserve wurde für junge Erwachsene bis 25 Jahre eingeführt.
Diskussion
Aufgrund der kompressionsbezogenen und rein biomechanischen Anlage dieses Ansatzes bleiben andere Einflüsse wie Scherung oder Torsion sowie psychologische oder psychosoziale Risikofaktoren trotz ihrer unbestrittenen Bedeutung für die Entstehung von Beschwerden, Störungen und Erkrankungen im unteren Rückenbereich unberücksichtigt.