01.12.2016 | Research article | Ausgabe 1/2016 Open Access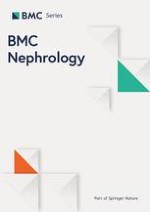 Diet as a system: an observational study investigating a multi-choice system of moderately restricted low-protein diets
Zeitschrift:
Autoren:

Giorgina Barbara Piccoli, Marta Nazha, Irene Capizzi, Federica Neve Vigotti, Stefania Scognamiglio, Valentina Consiglio, Elena Mongilardi, Marilisa Bilocati, Paolo Avagnina, Elisabetta Versino
Abstract
Background
There is no single, gold-standard, low-protein diet (LPD) for CKD patients; the best compliance is probably obtained by personalization. This study tests the hypothesis that a multiple choice diet network allows patients to attain a good compliance level, and that, in an open-choice system, overall results are not dependent upon the specific diet, but upon the clinical characteristics of the patients.
Methods
Observational study: Three LPD options were offered to all patients with severe or rapidly progressive CKD: vegan diets supplemented with alpha-ketoacids and essential aminoacids; protein-free food in substitution of normal bread and pasta; other (traditional, vegan non supplemented and tailored). Dialysis-free follow-up and survival were analyzed by Kaplan Meier curves according to diet, comorbidity and age.
Compliance and metabolic control were estimated in 147 subjects on diet at March 2015, with recent complete data, prescribed protein intake 0.6 g/Kg/day. Protein intake was assessed by Maroni Mitch formula.
Results
Four hundreds and forty nine patients followed a LPD in December, 2007- March, 2015 (90% moderately restricted LPDs, 0.6 g/Kg/day of protein, 10% at lower targets); age (median 70 (19–97)) and comorbidity (Charlson index: 7) characterized our population as being in line with the usual CKD European population. Median e-GFR at start of the diet was 20 mL/min, 33.2% of the patients were diabetics. Baseline data differ significantly across diets: protein-free schemas are preferred by older, high-comorbidity patients (median age 76 years, Charlson index 8, GFR 20.5 mL/min, Proteinuria: 0.3 g/day), supplemented vegan diets by younger patients with lower GFR and higher proteinuria (median age 65 years, Charlson index 6, GFR 18.9 mL/min; Proteinuria: 1.2 g/day); other diets are chosen by an intermediate population (median age 71 years, Charlson index 6; GFR 22.5 mL/min; Proteinuria: 0.9 g/day); (
p
 <0.001 for age, Charlson index, proteinuria, GFR). Adherence was good, only 1.1% of the patients were lost to follow-up and protein intake was at target in most of the cases with no differences among LPDs (protein intake: 0.47 (0.26–0.86) g/Kg/day). After adjustment for confounders, and/or selection of similar populations, no difference in mortality or dialysis start was observed on the different LPDs. Below the threshold of e-GFR 15 mL/min, 50% of the patients remain dialysis free for at least two years.
Conclusion
A multiple choice LPD system may allow reaching good adherence, without competition among diets, and with promising results in terms of dialysis-free follow-up. The advantages with respect to a non-customized approach deserve confirmation in further comparative studies or RCTs.