01.12.2018 | Research article | Ausgabe 1/2018 Open Access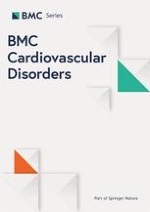 Dietary diversity score is associated with cardiovascular risk factors and serum adiponectin concentrations in patients with metabolic syndrome
Zeitschrift:
Autoren:

Mahdieh Abbasalizad Farhangi, Leila Jahangiry
Abstract
Background
Metabolic syndrome is associated with cardio-metabolic risk factors and lipid abnormalities. Previous studies evaluated the dietary habits and nutrient intakes among patients with metabolic syndrome; however the association between metabolic risk factors and adiponectin with dietary diversity score (DDS) in patients with metabolic syndrome has not been evaluated yet. Therefore the aim of the current study was to evaluate these relationships among patients with metabolic syndrome.
Methods
One hundred sixty patients with metabolic syndrome were recruited in the study. The anthropometric parameters including weight, height, waist circumference and hip circumference were measured. Serum adiponectin concentration was measured by enzyme- linked immunosorbent assay method (ELISA). Lipid profile and fasting serum glucose concentrations (FSG) were also measured with enzymatic colorimetric methods. Blood pressure was also measured and DDS was calculated using the data obtained from food frequency questionnaire (FFQ).
Results
Subjects in lower DDS categorizes had significantly lower energy and fiber intake; whereas mean protein intake of subjects in the highest quartile was significantly higher than second quartile. Higher prevalence of obesity was also observed in the top quartiles (
P
 < 0.001). Subjects in the lower quartiles had higher serum triglyceride concentrations and systolic blood pressure (SBP) values and lower serum adiponectin concentrations compared with subjects in higher DDS categorizes (
P
 < 0.05). The prevalence of metabolic syndrome components among patients in lower DDS quartiles was significantly higher (P < 0.05).
Conclusion
Our study found a lower serum triglyceride and SBP and higher serum adiponectin concentrations in top quartiles of DDS. The findings clarify the possible preventive role of higher dietary diversity score against metabolic syndrome. However, for further confirming the findings, more studies are warranted.