16.03.2016 | Original Contribution | Ausgabe 4/2017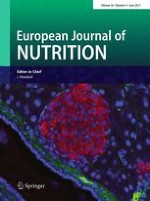 Dietary fatty acids specifically modulate phospholipid pattern in colon cells with distinct differentiation capacities
Zeitschrift:
Autoren:

Jiřina Hofmanová, Josef Slavík, Petra Ovesná, Zuzana Tylichová, Jan Vondráček, Nicol Straková, Alena Hyršlová Vaculová, Miroslav Ciganek, Alois Kozubík, Lucie Knopfová, Jan Šmarda, Miroslav Machala
Wichtige Hinweise
Electronic supplementary material
The online version of this article (doi:
10.​1007/​s00394-016-1196-y
) contains supplementary material, which is available to authorized users.
Abstract
Purpose
Although beneficial effects of the dietary n-3 docosahexaenoic acid (DHA) or butyrate in colon carcinogenesis have been implicated, the mechanisms of their action are not fully clear. Here, we investigated modulations of composition of individual phospholipid (PL) classes, with a particular emphasis on cardiolipins (CLs), in colon cells treated with DHA, sodium butyrate (NaBt), or their combination (DHA/NaBt), and we evaluated possible associations between lipid changes and cell fate after fatty acid treatment.
Methods
In two distinct human colon cell models, foetal colon (FHC) and adenocarcinoma (HCT-116) cells, we compared patterns and composition of individual PL classes following the fatty acid treatment by HPLC-MS/MS. In parallel, we measured the parameters reflecting cell proliferation, differentiation and death.
Results
In FHC cells, NaBt induced primarily differentiation, while co-treatment with DHA shifted their response towards cell death. In contrast, NaBt induced apoptosis in HCT-116 cells, which was not further affected by DHA. DHA was incorporated in all main PL types, increasing their unsaturation, while NaBt did not additionally modulate these effects in either cell model. Nevertheless, we identified an unusually wide range of CL species to be highly increased by NaBt and particularly by DHA/NaBt, and these effects were more pronounced in HCT-116 cells. DHA and DHA/NaBt enhanced levels of high molecular weight and more unsaturated CL species, containing DHA, which was specific for either differentiation or apoptotic responses.
Conclusions
We identified a wide range of CL species in the colon cells which composition was significantly modified after DHA and NaBt treatment. These specific CL modulations might contribute to distinct cellular differentiation or apoptotic responses.