22.02.2018 | Ausgabe 6/2018 Open Access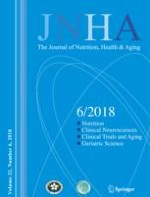 Dietary Protein Intake and Overall Diet Quality are Associated with Handgrip Strength in African American and White Adults
Zeitschrift:
Autoren:

Marie Fanelli Kuczmarski, R. T. Pohlig, E. Stave Shupe, A. B. Zonderman, M. K. Evans
Abstract
Objective
To determine the association of handgrip strength (HS) with protein intake, diet quality, and nutritional and cardiovascular biomarkers in African American and White adults.
Design
Cross-sectional wave 3 (2009–2013) of the cohort Healthy Aging in Neighborhoods of Diversity across the Life Span (HANDLS) study.
Participants
Socioeconomically diverse urban population of 2,468 persons aged 33 to 71 years.
Measurements
Socio-demographic correlates, dietary intakes and biomarkers, HS, physical performance measures were collected. HS was measured using a dynamometer with the dominant hand. Functional measures included chair, tandem, and single leg stands. Two 24-hour recalls were collected using the US Department of Agriculture Automated Multiple Pass Method. The total protein intake and diet quality, evaluated by adherence to the DASH eating plan and Healthy Eating Index-2010, were calculated. Biomarkers included nutritional anemia, and serum levels of albumin, cholesterol, magnesium, and glucose.
Results
The mean ±SE age of the sample was 52.3±0.2 years. Approximately 61% were African American and 57% were women. The mean ±SE HS of women was 29.1±0.2kg and for men was 45.9±0.4 kg. Protein, gm, per kg body weight for the women was 0.94±0.02 compared to 1.16 ±0.02 for men. After adjusting for socio-demographic factors, hypertension, and diabetes, HS/BMI ratio was significantly associated with protein intake per kg body weight (p<0.001) and diet quality, assessed by either the DASH adherence (p=0.009) or Health Eating Index-2010 (p=0.031) scores. For both men and women, participants in the upper tertile of HS maintained a single leg and tandem stances longer and completed 5 and 10 chair stands in shorter time compared to individuals in the lower HS tertile. Of the nutritional status indicators, the percent of men in the upper HS tertile with low serum magnesium and albumin, was significantly lower than those in the lower HS tertile [magnesium,7.4% vs 16.1%; albumin, 0.4% vs 4.5%]. The only difference observed for women was a lower percent of diabetes (14.4% for the upper HS tertile compared to 20.5% for the lower HS tertile.
Conclusions
The findings confirm the role of protein and a healthful diet in the maintenance of muscle strength. In this community sample, HS was significantly associated with other physical performance measures but did not appear to be strongly associated with indicators of nutritional risk. These findings support the use of HS as a proxy for functional status and indicate the need for research to explore its role as a predictor of nutritional risk.