01.12.2015 | Research article | Ausgabe 1/2015 Open Access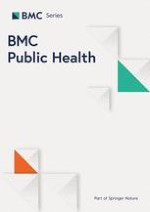 Differences between work and leisure in temporal patterns of objectively measured physical activity among blue-collar workers
Zeitschrift:
Autoren:

David M. Hallman, Svend Erik Mathiassen, Nidhi Gupta, Mette Korshøj, Andreas Holtermann
Wichtige Hinweise
Competing interests
The authors declare that they have no competing interests.
The original NOMAD study was conducted with financial support from the Federal Institute for Occupational Safety and Health (BAuA), Berlin, Germany and the National Research Centre for the Working Environment (NRCWE), Copenhagen, Denmark. The present study was supported by grants from the Swedish Research Council for Health, Working Life and Welfare (Forte Dnr. 2009–1761). The sponsors did not influence the collection, analysis and interpretation of data, writing of the manuscript or the decision to submit the manuscript for publication.
Authors' contributions
DH designed the study, carried out the statistical analyses, and drafted and revised the manuscript. SEM contributed in designing the study, and in drafting and critically revising the manuscript. NG and MK participated in planning the study and critically revising the manuscript. AH conceptualized the original NOMAD study and was together with MK responsible for coordinating the data collection; he participated in designing the present study, and in critically revising the manuscript. All authors read and approved the final manuscript.
Authors' information
Not applicable
Abstract
Background
Leisure time physical activity (LTPA) is generally associated with favorable cardiovascular health outcomes, while occupational physical activity (OPA) shows less clear, or even opposite, cardiovascular effects. This apparent paradox is not sufficiently understood, but differences in temporal patterns of OPA and LTPA have been suggested as one explanation. Our aim was to investigate the extent to which work and leisure (non-occupational time) differ in temporal activity patterns among blue-collar workers, and to assess the modification of these patterns by age and gender.
Methods
This study was conducted on a cross-sectional sample of male (
n
 = 108) and female (
n
 = 83) blue-collar workers, aged between 21 and 65 years. Physical activity and sedentary behavior were assessed using accelerometers (Actigraph GT3X+) worn on the thigh and trunk for four consecutive days. Temporal patterns of OPA and LTPA were retrieved using Exposure Variation Analysis (EVA), and expressed in terms of percentage of work and leisure time spent in uninterrupted periods of different durations (<1 min, 1–5 min, 5–10 min, 10–30 min, 30–60 min and > 60 min) of sitting, standing, and walking. Repeated measures ANOVA and linear regression analyses were used to test a) possible differences between OPA and LTPA in selected EVA derivatives, and b) the modification of these differences by age and gender.
Results
OPA showed a larger percentage time walking in brief (<5 min) periods [mean (SD): 33.4 % (12.2)], and less time in prolonged (>30 min) sitting [7.0 % (9.3)] than LTPA [walking 15.4 % (5.0); sitting 31.9 % (15.3)], even after adjustment for the difference between work and leisure in total time spent in each activity type. These marked differences in the temporal pattern of OPA and LTPA were modified by gender, but not age.
Conclusion
We found that the temporal patterns of OPA and LTPA among blue-collar workers were markedly different even after adjustment for total physical activity time, and that this difference was modified by gender. We recommend using EVA derivatives in future studies striving to disentangle the apparent paradoxical cardiovascular effect of physical activity at work and during leisure.