04.05.2018 | Nephrology - Original Paper | Ausgabe 6/2018 Open Access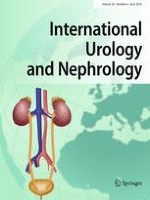 Differences in peritoneal response after exposure to low-GDP bicarbonate/lactate-buffered dialysis solution compared to conventional dialysis solution in a uremic mouse model
Zeitschrift:
Autoren:

M. Vila Cuenca, E. D. Keuning, W. Talhout, N. J. Paauw, F. J. van Ittersum, P. M. ter Wee, R. H. J. Beelen, M. G. Vervloet, E. Ferrantelli
Abstract
Background
Long-term exposure of conventional peritoneal dialysis (PD) fluid is associated with structural membrane alterations and technique failure. Previously, it has been shown that infiltrating IL-17-secreting CD4+T cells and pro-fibrotic M2 macrophages play a critical role in the PD-induced pathogenesis. Although more biocompatible PD solutions are recognized to better preserve the peritoneal membrane integrity, the impact of these fluids on the composition of the peritoneal cell infiltrate is unknown.
Materials and methods
In a uremic PD mouse model, we compared the effects of daily instillation of standard lactate (LS) or bicarbonate/lactate-buffered solutions (BLS) and respective controls on peritoneal fibrosis, vascularisation, and inflammation.
Results
Daily exposure of LS fluid during a period of 8 weeks resulted in a peritoneal increase of αSMA and collagen accompanied with new vessel formation compared to the BLS group. Effluent from LS-treated mouse showed a higher percentage of CD4+ IL-17+ cell population while BLS exposure resulted in an increased macrophage population. Significantly enhanced inflammatory cytokines such as TGFβ1, TNFα, INFγ, and MIP-1β were detected in the effluent of BLS-exposed mice when compared to other groups. Further, immunohistochemistry of macrophage subset infiltrates in the BLS group confirmed a higher ratio of pro-inflammatory M1 macrophages over the pro-fibrotic M2 subset compared to LS.
Conclusion
Development of the peritoneal fibrosis and angiogenesis was prevented in the BLS-exposed mice, which may underlie its improved biocompatibility. Peritoneal recruitment of M1 macrophages and lower number of CD4+ IL-17+ cells might explain the peritoneal integrity preservation observed in BLS-exposed mouse.