01.12.2018 | Primary Research | Ausgabe 1/2018 Open Access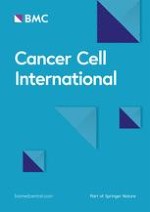 Different TP53 mutants in p53 overexpressed epithelial ovarian carcinoma can be associated both with altered and unaltered glycolytic and apoptotic profiles
Zeitschrift:
Autoren:

Stephanie Antoun, David Atallah, Roula Tahtouh, Nada Alaaeddine, Malak Moubarak, Abir Khaddage, Eliane Nasr Ayoub, George Chahine, George Hilal
Wichtige Hinweise
Electronic supplementary material
Abstract
Background
p53 is a tumor suppressor and key regulator of glycolysis in cancer cells, however highly mutated in tumors. In ovarian cancer, studies concerning p53 mutations focus on the DNA binding domain since the majority of hotspot mutations affects this region. Yet, mutations in other regions such as the proline rich domain may also affect the protein's expression and activity. The aim of this study is to investigate the effect of various positions of mutations in TP53 gene on glycolysis, apoptosis and transcription of p53 target genes.
Methods
Mutations frequency and their effect on p53 expression were assessed by PCR-SSCP, sequencing and immunohistochemistry on 30 ovarian cancer biopsies. Six tumors were cultured, as well as SK-OV-3, OVCAR-3 and Igrov-1. SK-OV-3 cells were transfected with 2 TP53 mutants. p53 transcriptional activity was assayed by qPCR, apoptosis by flow cytometry and glycolysis by glucose and lactate measurements, with quantification of glycolytic enzymes expression.
Results
Our results showed a high frequency of the P72R mutant, associated with p53 overexpression in the ovarian biopsies. However, P72R mutant cells showed similar apoptosis and glycolysis as WT cells. DNA binding domain mutations decreased the transcriptional activity of the protein and increased glucose consumption and lactate production.
Conclusion
Despite the overexpression of the P72R mutated protein in the biopsies, it showed a similar apoptotic activity and glucose regulation ability as WT p53. Knowing that p53 expression status is used for chemotherapeutic approaches and prognosis in ovarian cancer, the results obtained highlight the importance of locating TP53 mutations.