01.07.2020 | Original Paper | Ausgabe 2/2021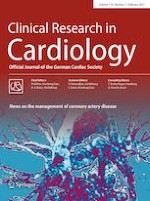 Different vasoreactivity of arterial bypass grafts versus native coronary arteries in response to acetylcholine
Zeitschrift:
Autoren:

Giancarlo Pirozzolo, Andreas Seitz, Valeria Martínez Pereyra, Anastasios Athanasiadis, Marc Albert, Ulrich F. W. Franke, Raffi Bekeredjian, Udo Sechtem, Peter Ong
Abstract
Background
Coronary angiography is often performed in patients with recurrent angina after successful coronary artery bypass grafting (CABG) in search of the progression of atherosclerosis. However, in many of these patients, no relevant stenosis can be detected. We speculate that coronary spasm may be associated with angina in these patients.
Methods
From 2307 patients with unobstructed coronaries who underwent intracoronary acetylcholine spasm provocation testing (ACh-test) between 2012 and 2016, 54 consecutive patients who fulfilled the following inclusion criteria were included in this cohort study: previous left internal thoracic artery (LITA) bypass on the left anterior descending (LAD) coronary artery, ongoing/recurrent angina pectoris, no significant (< 50%) coronary artery or bypass stenosis. In all participants, the ACh-test was performed via the LITA bypass.
Results
In 14 patients (26%) the ACh-test elicited epicardial spasm of the LAD distal to the anastomosis (≥ 90% diameter reduction with reproduction of the patient's symptoms and ischemic ECG shifts). Microvascular spasm (reproduction of symptoms and ischemic ECG-changes but no epicardial spasm) was seen in 30 patients (55%). The ACh-test was normal in the remaining 10 patients (19%). ACh-testing did not elicit any relevant vasoconstriction in the LITA bypasses in contrast to the LAD on quantitative coronary analyses (4.89 ± 7.36% vs. 52.43 ± 36.07%,
p
 < 0.01).
Conclusion
Epicardial and microvascular coronary artery spasm are frequent findings in patients with ongoing or recurrent angina after CABG but no relevant stenosis. Vasoreactivity to acetylcholine is markedly different between LITA bypasses and native LAD arteries with vasoconstriction almost exclusively occurring in the LAD.
Graphic abstract
×