01.12.2016 | Case report | Ausgabe 1/2016 Open Access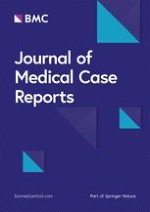 Differential diagnosis and treatment of acute cauda equina syndrome in the human immunodeficiency virus positive patient: a case report and review of the literature
Zeitschrift:
Autoren:

George Panos, Dionysios C. Watson, Ioannis Karydis, Dimitrios Velissaris, Marina Andreou, Vasilis Karamouzos, Maria Sargianou, Antonios Masdrakis, Paraskevi Chra, Lavrentios Roussos
Abstract
Background
Acute cauda equina syndrome is an uncommon but significant neurologic presentation due to a variety of underlying diseases. Anatomical compression of nerve roots, usually by a lumbar disk hernia is a common cause in the general population, while inflammatory, neoplastic, and ischemic causes have also been recognized. Among human immunodeficiency virus (HIV) infected patients with acquired immunodeficiency syndrome, infectious causes are encountered more frequently, the most prevalent of which are: cytomegalovirus, herpes simplex virus 1/2, varicella zoster virus, and
Mycobacterium tuberculosis
infections. Studies of cauda equina syndrome in well-controlled HIV infection are lacking. We describe such a case of cauda equina syndrome in a well-controlled HIV-infected patient, along with a brief review of the literature regarding the syndrome's diagnosis and treatment in individuals with HIV infection.
Case presentation
A 36-year-old Greek male, HIV-positive patient presented with perineal and left hemiscrotal numbness, lumbar pain, left-sided sciatica, and urinary incontinence. Magnetic resonance imaging of the patient's lumbar spine revealed intrathecal migration of a fragment from an intervertebral lumbar disk exerting pressure on the cauda equina. A cerebrospinal fluid examination, brain computed tomography scan, spine magnetic resonance imaging, and serological test results were negative for central nervous system infections. Our patient underwent emergency neurosurgical spinal decompression, which resolved most symptoms, except for mild urinary incontinence.
Conclusions
Noninfectious etiologies may also cause cauda equina syndrome in HIV-infected individuals, especially in well-controlled disease under antiretroviral therapy. Prompt recognition and treatment of the underlying cause is important to minimize residual symptoms. Targeted antimicrobial chemotherapy is used to treat infectious causes, while prompt surgical decompression is favored for anatomical causes of cauda equina syndrome in the HIV-infected patient.