01.12.2017 | Research | Ausgabe 1/2017 Open Access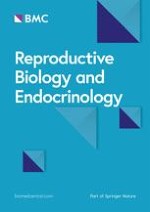 Differential gene expression profiling of endometrium during the mid-luteal phase of the estrous cycle between a repeat breeder (RB) and non-RB cows
Zeitschrift:
Autoren:

Ken-Go Hayashi, Misa Hosoe, Keiichiro Kizaki, Shiori Fujii, Hiroko Kanahara, Toru Takahashi, Ryosuke Sakumoto
Wichtige Hinweise
Electronic supplementary material
The online version of this article (doi:
10.​1186/​s12958-017-0237-6
) contains supplementary material, which is available to authorized users.
Abstract
Background
Repeat breeding directly affects reproductive efficiency in cattle due to an increase in services per conception and calving interval. This study aimed to investigate whether changes in endometrial gene expression profile are involved in repeat breeding in cows. Differential gene expression profiles of the endometrium were investigated during the mid-luteal phase of the estrous cycle between repeat breeder (RB) and non-RB cows using microarray analysis.
Methods
The caruncular (CAR) and intercaruncular (ICAR) endometrium of both ipsilateral and contralateral uterine horns to the corpus luteum were collected from RB (inseminated at least three times but not pregnant) and non-RB cows on Day 15 of the estrous cycle (4 cows/group). Global gene expression profiles of these endometrial samples were analyzed with a 15 K custom-made oligo-microarray for cattle. Immunohistochemistry was performed to investigate the cellular localization of proteins of three identified transcripts in the endometrium.
Results
Microarray analysis revealed that 405 and 397 genes were differentially expressed in the CAR and ICAR of the ipsilateral uterine horn of RB, respectively when compared with non-RB cows. In the contralateral uterine horn, 443 and 257 differentially expressed genes were identified in the CAR and ICAR of RB, respectively when compared with non-RB cows. Gene ontology analysis revealed that genes involved in development and morphogenesis were mainly up-regulated in the CAR of RB cows. In the ICAR of both the ipsilateral and contralateral uterine horns, genes related to the metabolic process were predominantly enriched in the RB cows when compared with non-RB cows. In the analysis of the whole uterus (combining the data above four endometrial compartments), RB cows showed up-regulation of 37 genes including
PRSS2
,
GSTA3
and
PIPOX
and down-regulation of 39 genes including
CHGA
,
KRT35
and
THBS4
when compared with non-RB cows. Immunohistochemistry revealed that CHGA, GSTA3 and PRSS2 proteins were localized in luminal and glandular epithelial cells and stroma of the endometrium.
Conclusion
The present study showed that endometrial gene expression profiles are different between RB and non-RB cows. The identified candidate endometrial genes and functions in each endometrial compartment may contribute to bovine reproductive performance.