01.12.2018 | Research | Ausgabe 1/2018 Open Access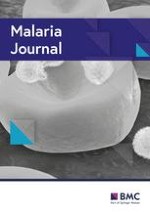 Differential induction of malaria liver pathology in mice infected with
Plasmodium chabaudi

AS or

Plasmodium berghei

NK65
Zeitschrift:
Autoren:

Diletta Scaccabarozzi, Katrien Deroost, Yolanda Corbett, Natacha Lays, Paola Corsetto, Fausta Omodeo Salè, Philippe E. Van den Steen, Donatella Taramelli
Wichtige Hinweise
Electronic supplementary material
Fausta Omodeo Salè and Philippe E. Van den Steen contributed equally to this work
Abstract
Background
Cerebral malaria and severe anaemia are the most common deadly complications of malaria, and are often associated, both in paediatric and adult patients, with hepatopathy, whose pathogenesis is not well characterized, and sometimes also with acute respiratory distress syndrome (ARDS). Here, two species of murine malaria, the lethal
Plasmodium berghei
strain NK65 and self-healing
Plasmodium chabaudi
strain AS which differ in their ability to cause hepatopathy and/or ARDS were used to investigate the lipid alterations, oxidative damage and host immune response during the infection in relation to parasite load and accumulation of parasite products, such as haemozoin.
Methods
Plasma and livers of C57BL/6J mice injected with
Pb
NK65 or
Pc
AS infected erythrocytes were collected at different times and tested for parasitaemia, content of haemozoin and expression of tumour necrosis factor (TNF). Hepatic enzymes, antioxidant defenses and lipids content and composition were also evaluated.
Results
In the livers of
P. berghei
NK65 infected mice both parasites and haemozoin accumulated to a greater extent than in livers of
P. chabaudi
AS infected mice although in the latter hepatomegaly was more prominent. Hepatic enzymes and TNF were increased in both models. Moreover, in
P. berghei
NK65 infected mice, increased lipid peroxidation, accumulation of triglycerides, impairment of anti-oxidant enzymes and higher collagen deposition were detected. On the contrary, in
P. chabaudi
AS infected mice the antioxidant enzymes and the lipid content and composition were normal or even lower than uninfected controls.
Conclusions
This study demonstrates that in C57BL/6J mice, depending on the parasite species, malaria-induced liver pathology results in different manifestations, which may contribute to the different outcomes. In
P. berghei
NK65 infected mice, which concomitantly develop lethal acute respiratory distress syndrome, the liver tissue is characterized by an excess oxidative stress response and reduced antioxidant defenses while in
P. chabaudi
AS infected mice hepatopathy does not lead to lipid alterations or reduction of antioxidant enzymes, but rather to inflammation and cytokine burst, as shown earlier, that may favour parasite killing and clearance of the infection. These results may help understanding the different clinical profiles described in human malaria hepatopathy.