01.12.2012 | Research | Ausgabe 1/2012 Open Access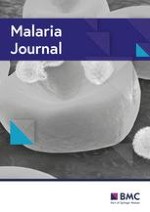 Differential
Plasmodium falciparum

infection of

Anopheles gambiae s.s

. molecular and chromosomal forms in Mali
Zeitschrift:
Autoren:

Rebecca T Trout Fryxell, Catelyn C Nieman, Abdrahamane Fofana, Yoosook Lee, Sekou F Traoré, Anthony J Cornel, Shirley Luckhart, Gregory C Lanzaro
Wichtige Hinweise
Electronic supplementary material
The online version of this article (doi:
10.​1186/​1475-2875-11-133
) contains supplementary material, which is available to authorized users.
Competing interests
The authors declare we have no competing interests with the work presented in this manuscript.
Authors' contributions
AJC, GCL, SL, and YL conceived the study and designed the experiments. YL, AJC, AF, and SFT conducted the work in Mali. YL, CSN, and RTF conducted the laboratory work. RTF analysed the data and wrote the manuscript. All authors have read and approved the final manuscript.
Abstract
Background
Anopheles gambiae sensu stricto
(
s.s.
) is a primary vector of
Plasmodium falciparum
in sub-Saharan Africa. Although some physiological differences among molecular and chromosomal forms of this species have been demonstrated, the relative susceptibility to malaria parasite infection among them has not been unequivocally shown. The objective of this study was to investigate
P. falciparum
circumsporozoite protein infection (CSP) positivity among
An. gambiae s.s.
chromosomal and molecular forms.
Methods
Wild
An. gambiae
from two sites Kela (n = 464) and Sidarebougou (n = 266) in Mali were screened for the presence of
P. falciparum
CSP using an enzyme-linked immunosorbent assay (ELISA). Samples were then identified to molecular form using multiple PCR diagnostics (n = 713) and chromosomal form using chromosomal karyotyping (n = 419).
Results
Of 730
An. gambiae sensu lato
(
s.l.
) mosquitoes, 89 (12.2%) were CSP ELISA positive. The percentage of positive mosquitoes varied by site: 52 (11.2%) in Kela and 37 (13.9%) in Sidarebougou. Eighty-seven of the positive mosquitoes were identified to molecular form and they consisted of nine
Anopheles arabiensis
(21.4%)
,
46 S (10.9%), 31 M (12.8%), and one MS hybrid (14.3%). Sixty of the positive mosquitoes were identified to chromosomal form and they consisted of five
An. arabiensis
(20.0%)
,
21 Savanna (15.1%), 21 Mopti (30.4%), 11 Bamako (9.2%), and two hybrids (20.0%).
Discussion
In this collection, the prevalence of
P. falciparum
infection in the M form was equivalent to infection in the S form (no molecular form differential infection). There was a significant differential infection by chromosomal form such that,
P. falciparum
infection was more prevalent in the Mopti chromosomal forms than in the Bamako or Savanna forms; the Mopti form was also the most underrepresented in the collection. Continued research on the differential
P. falciparum
infection of
An. gambiae s.s.
chromosomal and molecular forms may suggest that
Plasmodium – An. gambiae
interactions play a role in malaria transmission.