01.12.2011 | Research article | Ausgabe 1/2011 Open Access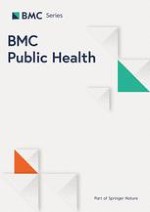 Differential relationships of family drinking with alcohol expectancy among urban school children
Zeitschrift:
Autoren:

Chuan-Yu Chen, Carla L Storr, Chieh-Yu Liu, Kuang-Hung Chen, Wei J Chen, Keh-Ming Lin
Wichtige Hinweise
Electronic supplementary material
The online version of this article (doi:
10.​1186/​1471-2458-11-87
) contains supplementary material, which is available to authorized users.
Competing interests
The authors declare that they have no competing interests.
Authors' contributions
CYC, WJC, and KML developed the study and CYL carried out sampling. CYC conducted the analyses; CYC and CLS drafted the article. KHC helped the implementation of data collection and management. All of the authors contributed to the interpretation of results.
Background
Methods
Participants and sampling procedures
The present research was derived from the baseline data of the Alcohol-Related Experiences among Children (AREC), a study designed to examine determinants of alcohol-related experiences from childhood to adolescence in Taiwan. In brief, the study involves multi-stage probability sampling which began with a complete list of public elementary schools (n = 141) in an urban region in the 2006-07 year. In order to produce a representative balance of students, we randomly selected 28 schools from four strata defined by school administrative and neighboring characteristics. Next, three classes were randomly selected from both 4
th
grade (~age 10) and 6
th
grade (~age 12) within each of selected schools, and all students were selected for schools with three or less classes in the designated grades. All of the students in the sampled classrooms were eligible to participate in this study. Detailed information on the study sample and sampling procedure has been described elsewhere [
36
].
A letter from the National Health Research Institutes (NHRI) was sent to the designated school principals and classroom teachers. When a school-level refusal occurred, a replacement school within the same sampling stratum was randomly selected, and for classroom-level refusals, another classroom within the same school was randomly selected. One week prior to the designated day of assessment, introductory letters and informed consent forms were distributed to the students to deliver to their parents/primary care givers. Only students with "active parental consent" took part in the survey; data were double keyed-in and linked on the basis of individual identification numbers instead of names. A total of 1306 4th and 1324 6th graders completed the questionnaires, yielding the overall class-level response rate was 98.0% and the individual-level response rate was 59.1% for 4th grade and 62.2% for 6th grade.
Data collection
Pilot testing with students from four elementary schools (4th and 6th graders, n = 210) led to standardization of the survey procedures. Trained assessors started with engagement exercises to promote trust and rapport and to answer questions about confidentiality, followed by a statement that allowed individual students to decline to participate. Next, the assessor read out main sections on the questionnaires, in a manner that sought to overcome inter-individual variations in reading skills and cognitive development. Meanwhile, a co-assessor served as a monitor to help maintain order and to answer individualized questions. In closing, the assessors collected the completed questionnaires to help promote confidentiality and data quality. On average, children required approximately 30 minutes to complete the paper-and-pencil questionnaire. After the questionnaires were collected, all the data were processed via double-entry verification. This study has been approved by National Health Research Institutes Research Ethics Committee (EC 0951104).
Measures
Family attributes: Parental drinking behaviors were assessed by two items: "
Have you
ever seen
your father drinking?
" and "
Have you
ever seen
your mother drinking?
" Sibling drinking was coded as positive if the young child had at least one older brother or sister who had been seen drinking. Monthly allowance was considered as a proxy measure for family socioeconomic status and afterschool adult supervision was evaluated by the attendance of after school program. Two items "
Is your father currently holding a job?
" and "
Is your mother currently holding a job?
" were adopted to assess parental employment status. Family members (e.g., father, mother, and siblings) who currently live together with the participant were also inquired.
Individual attributes: With respect to alcohol drinking behaviors, lifetime experiences were determined by "
Not including a sip of alcohol and alcoholic beverages added in meals, have you ever drunk alcohol in your lifetime
?" followed by an array of questions pertaining to the age of onset of drinking and cumulative frequency of alcohol consumption for those who had initiated alcohol prior to the assessment. Children who have initiated drinking alcohol will be referred to as alcohol experienced vs. alcohol naïve for children who hadn't initiated use by the time of assessment.
Alcohol expectancies were assessed via the Chinese version for Alcohol Expectancy Questionnaire-Children form (CAEQ-C), translated and adapted from the Alcohol Expectancy Questionnaire-Adolescent form (AEQ-A)[
37
]. Expert reviews and focus groups determined items were appropriate for the reading and literacy skills of the 3
rd
grade. Seven items in the scale of "alcohol enhances sexuality" (e.g., "
alcohol makes sexual experiences easier and more enjoyable"
) were dropped because the content was deemed inappropriate. Poor loading items were also not included (e.g., "
people drive better after a few drinks of alcohol
," "
a person may have a few drinks of alcohol in order to be part of the group
"). Six dimensions were identified in the preliminary analyses of the 74 binary CAEQ items. However, the present analyses will focus only on the four scales with high reliability (Cronbach alpha greater than 0.6), three representing positive and one representing negative alcohol expectancies. The internal reliability of the scales tended to be higher among older children: "global positive transformation" [GPT], 13 items; Cronbach alphas = 0.78 and 0.81 for 4
th
and 6
th
graders respectively, "enhanced or impeded social behaviors" [ESB], 14 items; Cronbach alphas = 0.61 and 0.69 for 4
th
and 6
th
graders respectively, "promoting relaxation or tension reduction" [PRTR], 13 items; Cronbach alphas = 0.84 and 0.86 for 4
th
and 6
th
graders respectively, and "deteriorated cognitive and behavioral functions" [DCBF], 21 items; Cronbach alphas = 0.83 and 0.86 for 4
th
and 6
th
graders respectively. Reliability estimates were also slightly higher among the children who had drank alcohol (alcohol experienced vs. alcohol naïve Cronbach alpha estimates: GPT = 0.81 vs. 0.78, ESB = 0.67 vs. 0.61, PRTR = 0.86 vs. 0.85, and DCBF = 0.86 vs. 0.83). After excluding 103 (7.9%) 4
th
graders and 72 (5.4%) 6
th
graders who had illogical responses in either one of three non-AEQ items, the final analytic sample contained 1203 4
th
graders and 1252 6
th
graders.
Statistical analysis
Due to the multistage sampling procedures employed in the present study, we used standard survey analysis procedures to (i) inspect the distribution of individual and family attributes and (ii) to summarize dimension (scale)-specific estimates of alcohol expectancy scores in relation to alcohol experiences. These procedures take into account the sampling strata, sampling weights, and primary sampling unit (i.e., school). In STATA, for the contingency table analyses and linear regression, the survey commands utilize Taylor series linearization to estimate the variance [
38
]. Concerning alcohol drinking-related differences in the organization of alcohol expectancy information in childhood [
12
], we will stratify by a child's prior alcohol drinking history before performing multiple linear regression models that will estimate the connection between family attributes and dimension-specific alcohol expectancies.
For variables collected in the forms of categorical response (e.g., living with parents, parental employment, and monthly allowance) in family attributes, given the numbers in some subgroups were too small, we decide to dichotomize them in order to provide precise estimates of relationships. As to alcohol experience measured in continuous (i.e., age at first use) and ordinal (i.e., cumulative occasions of drinking) variables, the dichotomization approach was used in regression analyses with an attempt to avoid the violation of linear correlation assumption (i.e., the age-related related increase in alcohol expectation is not linear from age 3 to 12) and to reflect differential stage of alcohol involvement. Early alcohol initiation (defined by having the first drink before the age of 7) and cumulative consumption of alcoholic beverages (occasional vs. experimental use) were all taken into account when running models on the alcohol experienced children. In this series of analyses, standardized scores were used in order to compare the magnitude of relationship across the four dimensions of alcohol expectation. All the analyses were conducted using STATA Release 9 (College Station, TX: StataCorp LP).
Results
Discussion
In this urban region of Taiwan, over 40% of the elementary-school aged children surveyed had tried more than a sip of alcohol on at least one occasion. Differences in both endorsement and correlates of alcohol expectancy were found by drinking history. Among alcohol-naïve children, older ages and paternal drinking were significantly related with higher levels of positive alcohol expectancy; older ages and being female associated with negative alcohol expectancy. In contrast, for those who had initiated alcohol use, maternal drinking and personal drinking frequency appear more salient in relation to positive alcohol expectancy; younger age, lower monthly allowance, and occasional drinking were strongly related with lower endorsement of negative alcohol expectancy.
Several potential limitations should be considered in interpreting our findings. First, our data were primarily collected from public school-attending young children; therefore, the results may not directly reflect the experiences in private-school attendants (less than 5% in the city of Taipei). Moreover, due to cultural, geographic, and societal differences, it might not be appropriate to generalize these findings outside of Taiwan. Second, selection bias may arise due to differential response rates associated with variables of interests in this study. Further post-hoc analyses have shown that schools with large-scale and convenient transportation (or so-called elite schools) tend to have a lower response rate than the others, suggesting that students from certain higher socioeconomic subgroups may be possibly under-represented in the study population. Third, there are also method limitations of a survey, such as the cross-sectional design and retrospective self-report. The assessment of family drinking relies solely on observation and may be vulnerable to bias if a child's attention to alcohol clues in the environment is associated with his or her alcohol drinking experience or alcohol expectancy. Future studies of multi-wave assessments may help understand complex relationships operating between family context and the endorsement of alcohol expectancy from childhood to adolescence.
Conclusions
In sum, our study indicates the significant role of family drinking on positive alcohol expectancy in one's early life and alcohol drinking-related differences in the correlates for the endorsement of alcohol expectancy in childhood. Findings from this study are particularly noteworthy because they were obtained from a population-based study with a focus on primary school-aged children. Individual tailored strategies that address family influences on alcohol expectancy may be needed in prevention programs targeting drinking behaviors in children. Expectation, especially positive effects, toward alcohol should be considered as a potential marker to shape or monitor in order to delay early initiation or experimentation of alcohol [
9
,
46
]. Additional research is warranted to understand possible mediational or moderational effects of alcohol outcome expectancy on the pathways linking social (e.g., family drinking and socioeconomic status) and individual factors with alcohol initiation and regular drinking in early childhood.
Acknowledgements
This work has been supported by grant awards from the National Science Council (NSC 95-2314-B-400-009-MY3) and National Health Research Institutes (MDPP04-014).
This article is published under license to BioMed Central Ltd. This is an Open Access article distributed under the terms of the Creative Commons Attribution License (
http://​creativecommons.​org/​licenses/​by/​2.​0
), which permits unrestricted use, distribution, and reproduction in any medium, provided the original work is properly cited.
Competing interests
The authors declare that they have no competing interests.
Authors' contributions
CYC, WJC, and KML developed the study and CYL carried out sampling. CYC conducted the analyses; CYC and CLS drafted the article. KHC helped the implementation of data collection and management. All of the authors contributed to the interpretation of results.