01.12.2019 | Research | Ausgabe 1/2019 Open Access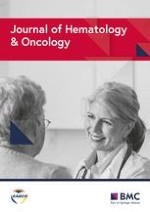 Differential roles of STAT1 and STAT2 in the sensitivity of JAK2V617F- vs. BCR-ABL-positive cells to interferon alpha
Zeitschrift:
Autoren:

Claudia Schubert, Manuel Allhoff, Stefan Tillmann, Tiago Maié, Ivan G. Costa, Daniel B. Lipka, Mirle Schemionek, Kristina Feldberg, Julian Baumeister, Tim H. Brümmendorf, Nicolas Chatain, Steffen Koschmieder
Wichtige Hinweise
Electronic supplementary material
Nicolas Chatain and Steffen Koschmieder contributed equally to this work.
Abbreviations
ChIP
Chromatin immunoprecipitation
CHR
Complete hematologic remission
ET
Essential thrombocythemia
GEP
Gene expression profiling
IFNAR
Interferon alpha receptor
IRF
Interferon responsive factor
ISGF3
IFN-stimulated gene factor 3
ISRE
IFN-stimulated response element
MPN
Myeloproliferative neoplasms
PBMC
Peripheral blood mononuclear cells
SOCS
Suppressor of cytokine signaling
STAT
Signal transducer and activator of transcription
TKI
Tyrosine kinase inhibitor
Background
In this study, we analyzed the cellular and molecular response of BCR-ABL- and JAK2V617F-expressing cells to IFNa, aiming to clarify the roles of STAT1 and STAT2 in IFNa monotherapy in CML and PV.
Methods
Patient samples
Primary patient samples were obtained from patients of the Department of Hematology, Oncology, Hemostaseology, and Stem Cell Transplantation at RWTH Aachen University after written informed consent, as approved by the local ethics committee (EK 127/12 and EK 206/09). The CML patients were newly diagnosed. None of the PV patients had received ruxolitinib or IFNa before sample preparation.
DNA constructs and vectors
The cDNA of
Stat1
was amplified from cDNA of 32D-JAK2V617F, and
Stat2
cDNA was ordered from GeneArt gene synthesis service of Thermo Fisher Scientific. Amplification was done with the primers listed in Additional file
1
: Table S1. The PCR products were ligated into the pMSCV-IRES-RFP vector digested with the depicted restriction enzymes (NEB) (Additional file
1
: Table S1).
Mutagenesis of
STAT1
and
STAT2
to substitute Y701 (
STAT1
) or Y689 (
STAT2
) to phenylalanine (F) was performed with the Quick change II XL site-directed mutagenesis kit (Agilent Technologies) or Q5 mutagenesis kit (NEB) according to the manufacturer's protocol with primers listed in Additional file
1
: Table S2. Successful mutagenesis was controlled by Sanger sequencing (Eurofins Genomics S.A., MWG-Biotech, Ebersberg, Germany).
Cell culture
The production of viral particles and retroviral transduction of 32D cells was carried out as previously described [
28
,
29
]. The vectors pMY-IRES-GFP-
Bcr-Abl
,
Jak2V617F
, or the empty vector (EV) were used for the production of virus. 32D-BCR-ABL or 32D-JAK2V617F cells grow IL-3 independent and can be selected by fluorescence-activated cell sorting (FACS) for GFP expression. After transduction with the pMSCV-IRES-RFP vectors for the overexpression of the STAT proteins, the cells were FACS-sorted for double positivity of GFP and RFP with an Aria cell sorter (BD Bioscience, Heidelberg, Germany).
The cell lines 32D, K562 (BCR-ABL positive), and HEL (homozygously JAK2V617F positive) were purchased from the German collection of microorganisms and cell cultures (DSMZ, Braunschweig, Germany) and cultured in RPMI-1640 medium with 10% FCS and 1% PenStrep. WEHI supernatant (10%) served as IL-3 source for culturing 32D cells.
Real-time quantitative reverse transcriptase-PCR (RT-qPCR)
RNA isolation, cDNA transcription, and procedure of RT-qPCR were performed as previously described [
28
]. In general, 32D cells were grown in WEHI-supplemented (IL-3-source) RPMI medium. Sixteen hours before RNA isolation, 32D cells were washed twice and resuspended in IL-3-free medium. Expression was calculated as a percentage of
Gapdh
(Glycerinaldhyd-3-phosphate-dehydrogenase). The primers for the analysis of target genes are listed in Additional file
1
: Table S3.
For microarray analysis, RNA from 32D-EV, 32D-BCR-ABL, or 32D-JAK2V617F cells was analyzed, using an Affymetrix mouse genome 430 2.0 array (Fisher Scientific, Life Technologies, Carlsbad, CA, USA).
SDS-Page and immunoblotting
MTT assay
Cells were plated in triplicate (5 × 104 cells/well) in WEHI-free medium. IFNa (Miltenyi Biotech; mouse IFNa, source: HEK293 cells; batches changed during the study) was diluted in cell culture medium (0–104 U/ml). In case of combination treatment with TKI, the cells were treated with 0.1 to 1 μM TKI, as indicated, in addition to the different IFN concentrations in comparison to a DMSO control. The measurement of cell viability was performed 72 h later using MTT reagent (Sigma-Aldrich), and measurement of absorption was conducted at a wavelength of 550 nm. The metabolic process of tetrazolium reduction to formazan in our assay reflects the amount of viable cells, and this is therefore stated accordingly. The viability was calculated in reference to the control cells.
Apoptosis staining
Apoptosis staining of cells after TKI (0.5 μM imatinib and 0.1 μM ruxolitinib) and/or IFNa treatment (102 U/ml) was done with propidium iodide (Sigma-Aldrich). 1 × 106 cells were treated for 72 h or 48 h and stained with Zombie-Aqua or PI, respectively, in a 1:1000 dilution. The samples were analyzed with a FACS Gallios (Beckmann Coulter, Krefeld, Germany).
CRISPR/Cas9n triggered STAT1 or STAT2 knockout
32D-BCR-ABL-S1ko or S2ko and 32D-JAK2V617F-S1ko or S2ko cells were generated with CRISPR/Cas9n double nicking approach as described by Ran et al. [
30
]. In brief, two pairs of guide RNA (gRNA) were designed for excision of exon 5-7 in the
Stat1
and exon 9-20 in the
Stat2
gene (Additional file
1
: Table S5; Additional file
2
: Figure S1). gRNA oligonucleotides were cloned into a variant of the pX462 vector (Addgene plasmid # 62987), which was a gift from Feng Zhang (Addgene plasmid # 62987) [
30
]. Five micrograms of each gRNA plasmid, targeting STAT1 or STAT2, was electroporated into 32D-BCR-ABL or 32D-JAK2V617F cells using the NEON transfection system (1.350 V, 20 ms, 2 pulse, Thermo Fisher Scientific). Electroporated cells were selected by puromycin treatment (3 μg/ml) for 24 h. Again 24 h later, single cell dilutions were performed to obtain single clones.
Chromatin immunoprecipitation
Chromatin immunoprecipitation (ChIP) experiments were conducted as previously described [
31
]. Antibodies and primers are listed in Additional file
1
: Tables S6 and S7, respectively. Results were generated in at least two independent experiments.
Two different sets of H3K9ac ChIP-seq data were analyzed. One was published before [
32
] and included 32D-EV, 32D-BCR-ABL, and 32D-JAK2V617F cells. The other one was performed by our group in collaboration with the German Cancer Research Center (DKFZ) in Heidelberg in the Division of Epigenomics and Cancer Risk Factors and additionally included the corresponding TKI treatment. The detailed procedure is described in the supplementary information.
Bioinformatic analyses
Analysis of expression arrays was based on Bioconductor, and analysis of ChIP-seq data was based on differential peak caller THOR [
33
] to detect peaks gained/lost between previously described pairs of conditions. Gene expression data from patients with BCR-ABL mutations and respective controls were obtained from Gene Expression Omnibus (GSE5550) [
34
]. The detailed analysis procedure is given in supplementary information. Gene set enrichment analysis (GSEA) was performed with the bionconductor package piano [
35
]. All gene sets from the Molecular Signatures Database (
https://​software.​broadinstitute.​org/​gsea/​msigdb/​
) and a gene set with interferon-stimulated genes (ISG) obtained from Wright et al. [
36
] (see Additional file
1
: Table S8) were used. The GSEA test indicates the enrichment of gene sets in either upregulated or downregulated genes based on the fold changes contrasting 32D cells with BCR-ABL vs JAK2V617F, JAK2V617F vs EV, and BCR-ABL vs EV.
Statistical analysis
Statistical analysis was performed with GraphPad Prism software 5.0 (GraphPad Software, La Jolla, CA, USA) and the two-tailed Student's
t
test and one-way ANOVA (Dunnett's test). Significant differences were defined as *
p
 < 0.05, **
p
 < 0.01, and ***
p
 < 0.001. Mean and standard deviation (SD) are indicated. All experiments have been performed at least three times, if not indicated differently.
Results
Discussion
Since its discovery almost 60 years ago, IFNa and its pegylated form, PegIFNa, have been successfully used therapeutically in various malignancies, including MPN [
33
]. Nevertheless, the IFNa response is dependent on the MPN subtype, with IFNa monotherapy inducing complete hematologic remission (CHR) rates of 76% and complete molecular remission rates of 18% in Ph neg MPNs such as PV or ET [
38
], but no more than 55% CHR rates in CML [
39
,
40
] and much lower rates in overt PMF [
41
,
42
].
In this study, we compared the IFNa response of BCR-ABL- vs. JAK2V617F-positive cells and their dependence on the transcription factors STAT1 and STAT2. BCR-ABL cells were resistant to growth inhibition and apoptosis by IFNa single treatment, while 32D-JAK2V617F cells were highly sensitive (Fig.
1
a). It has been described that BCR-ABL suppresses IFN-inducible gene expression and IFNa responsiveness in Ba/F3-BCR-ABL cells [
20
]. We confirmed these results and significantly extended the analysis to human cell lines, PBMCs, and CD34+ cells from BCR-ABL-positive vs. BCR-ABL-negative MPN patients (Figs.
1
and
2
). Although CML PBMCs show clear reduction of the analyzed ISGs, supporting our cell line data, the regulation in PV-derived PBMC samples was heterogeneous. This might be explained by the differing allelic burden in PBMC in comparison to 100% positivity in cell lines. ISG suppression by BCR-ABL may be partially explained by lysosomal degradation of IFNAR1 in BCR-ABL-expressing cells, resulting in reduced IFNa sensitivity [
26
] and the presence of pY-STAT2, reported to be involved in ISG repression [
43
].
Using our CRISPR/Cas9n-mediated STAT1 and STAT2 knockout cell lines, we were able to demonstrate that, in BCR-ABL-positive cells, STAT2 is essential for IFNa-induced STAT1 phosphorylation (Fig.
3
a), supported by the observation that pY-STAT2 recruits STAT1 to the activated IFNa receptor [
44
]. Importantly, we demonstrate that, in JAK2V617F-expressing cells, STAT1 phosphorylation by IFNa stimulation is independent from STAT2 (Fig.
3
b), suggesting that receptor recruitment is different in JAK2V617F-positive cells. Furthermore, STAT2ko is less effective in repression of ISG expression (Fig.
3
f and Additional file
10
: Figure S8A, B) in comparison to JAK2V617F-STAT1ko cells, presumably due to the retained pY-STAT1 after IFNa stimulation (Fig.
3
b).
In the following, we demonstrate that STAT2Y689F induces STAT1 expression in JAK2V617F-positive cells but not in BCR-ABL-expressing cells (Fig.
4
c and Fig.
6
). We found higher levels of the negatively regulating histone mark H3K27me3 [
45
] in BCR-ABL-expressing cells, probably explaining the incapacity to upregulate STAT1 expression. Furthermore, we demonstrated a re-induction of ISGs in BCR-ABL-positive cells after imatinib treatment and a further increase when cells were treated with a combination of TKI and IFNa (Fig.
2
), most likely due to positive feedback of re-induced STAT1, loss of negatively regulating histone marks, and rescue of IFNAR1 surface expression after pretreatment of CML cell lines with TKI [
26
].
×
Previous reports assessing the mechanism of IFNa resistance in CML patients found both STAT1 deficiency [
17
] and SOCS3 overexpression [
18
] to play an important role. However, SOCS3 overexpression was only detected at the blast crisis but not chronic phase stage of CML [
18
]. Furthermore, while STAT1 expression was well correlated with the in vivo IFNa response in one study [
17
], BCR-ABL was only found to inhibit STAT1 phosphorylation but not STAT1 protein expression in another study [
20
]. Indeed, overexpression of STAT1 in our 32D-BCR-ABL cells was only marginally capable to induce IFNa efficacy, both in the presence or absence of endogenous STAT1 (Fig.
4
and Additional file
7
: Figure S6). However, STAT2 reconstitution in STAT2-deficient BCR-ABL- and JAK2V617F-positive cells increased basal cell viability but did not change upon IFNa treatment (Fig.
4
a). It needs to be mentioned that ectopic expression of STAT2 did not necessarily rescue the observed results in STAT2 +/+ cells. Ectopic expression of STAT2 is probably too high, which would suggest high cellular sensitivity to changes in STAT2 expression.
These results suggest that the ratio of different STAT proteins is crucial for cell proliferation, survival, and IFNa responsiveness in CML. In addition to differential STAT1/STAT2 signaling in the clonal cells themselves, cell-extrinsic effects such as IFNa-mediated activation of the immune system is certainly important [
46
]. However, in the present study, we specifically focused on the cell-autonomous effects of IFNa.
Contribution of STAT proteins in IFN signaling is very complex as most STATs can form homo- as well as hetero-dimers in phosphorylated and unphosphorylated state, thereby activating distinct subsets of genes [
47
,
48
]. The expression level of STAT3 and its phosphorylation is crucial for the STAT1 transcriptional profile, as higher (phospho)-STAT3 levels reduce the amount of STAT1 homodimers and at the same time support the ISGF3-dependent gene expression [
49
], thereby influencing IFNa responsiveness. STAT3 was only phosphorylated in 32D-JAK2V617F cells but not in BCR-ABL-expressing cells (Fig.
2
c), therefore supporting ISGF3 complex formation. Surprisingly, 32D-JAK2V617F-S1ko-STAT1Y/F cells were still responsive to IFNa (Fig.
4
b and Additional file
10
: Figure S8), suggesting the ISGF3 complex formation even without phosphorylation of STAT1 at its regulatory tyrosine 701.
Re-expression of STAT2 and STAT2YF led to increased viability of BCR-ABL- and JAK2V617F-positive S2ko cells. Nevertheless, only JAK2V617F-S2ko-STAT2(Y/F) cells were sensitized to low doses of IFNa, presumably due to upregulation of STAT1 protein expression (Fig.
4
a, b). At the same time, while targeted disruption of STAT2 reduced basal viability of JAK2V617F cells, IFNa treatment increased cell viability, possibly through hyper-activation of STAT3 and reduced negative regulation (Figs.
3
d and
4
c). Intriguingly, ectopic expression of STAT2(Y/F) did not decrease pY-STAT3 to normal levels in 32D-JAK2V617F-S2ko cells (Fig.
4
c), which was in line with only partial reconstitution of ISG induction (Additional file
8
: Figure S9a and b) [
50
] and suggested that JAK2V617F but not BCR-ABL alters the requirement for STAT2 in the response to IFNa. These results argue for a differential and significant role of STAT2 but also STAT3 in BCR-ABL- vs. JAK2V617F-expressing cells (Fig.
6
). In addition, our data also indicate a leading role for pY-STAT1 and STAT2, as a regulator of STAT1 transcription, in JAK2V617F-expressing cells for induction of apoptosis.
STAT binding at the promoter of ISGs is strongly influenced by histone modifications altering promoter accessibility. In former studies, it was demonstrated that histone acetylation is important for hematopoietic differentiation, which can be counteracted by overexpression of HDAC1 [
51
]. Our H3K9ac ChIP-seq data revealed an increase of acetylation at the binding sites of interferon-regulated transcription factors in line with an increase of IFNa target genes in JAK2V617F-positive cells, providing a link between acetylation and active gene transcription. In addition, STAT1 and STAT2 have been associated with histone acetyltransferases, resulting in localized acetylation of histones [
52
,
53
]. Our data lead to the conclusion that acetylation at the promoter of ISGs in 32D-JAK2V617F but not 32D-BCR-ABL cells can be correlated with gene expression, with or without a response to TKI and IFNa treatment. HDAC inhibitors showed selective inhibition of ISGs that are activated by STAT1 and STAT2 [
54
]. In addition, IRF9 was shown to be important for the binding of RNA polymerase II to the promoter of these target genes to modulate the HDAC function and gene expression. Analysis of additional histone modifications confirmed a complex time and cell type-specific mechanism of gene regulation, as the presence of different modifications correlated with mRNA levels in the analyzed cells (Fig.
5
c).
Conclusions
Taken together, in BCR-ABL-positive cells, STAT2 was found to be a survival factor but not an IFNa-sensitizing factor, indicating an important role of STAT2 protein in the prediction of responsiveness of CML patients to IFNa therapy. In contrast, in JAK2V617F-positive cells, STAT2 is a survival and an IFNa-sensitizing factor, regulating STAT1 expression even in its unphosphorylated state (Fig.
6
). Therefore, the complex network of STAT1, STAT2, and STAT3 in their unphosphorylated and phosphorylated states could probably help to predict the response to IFNa. Moreover, our data suggest that the analysis of the composition of histone modifications may be useful for the prediction of gene expression and response to therapy.
Acknowledgements
Biomaterial samples were provided by the RWTH centralized Biomaterial Bank Aachen (RWTH cBMB, Aachen, Germany) in accordance with the regulations of the biomaterial bank and the approval of the ethics committee of the medical faculty, RWTH Aachen. We thank Stefan Frank and Boris Greber for vectors. This work was part of the PhD thesis of C.S..
Funding
This work was in part funded by research grants from the DFG KO2155/6-1 (S.K.), START grant by the Faculty of Medicine in Aachen (N.C.), the Interdisciplinary Center for Clinical Research (IZKF) Aachen (S.K.), Deutsche José Carreras Leukämie-Stiftung (DJCLS) R10/23 (S.K.), Interdisciplinary Center for Clinical Research (IZKF) Aachen Research Group (I.C.), and the Excellence Initiative of the German Federal and State Governments and the German Research Foundation (grant GSC 111) (I.C.).
Availability of data and materials
All data generated or analyzed during this study are included in this published article [and its supplementary information files]. Datasets analysed during the current study are available at NCBI, GEO DataSets (Accession: GSE5550; GSE120362).
Ethics approval and consent to participate
Primary patient samples were obtained from patients of the Department of Hematology, Oncology, Hemostaseology, and Stem Cell Transplantation at RWTH Aachen University after written informed consent, as approved by the local ethics committee (EK 127/12 and EK 206/09).
Consent for publication
Not applicable.
Competing interests
SK has been a member of Advisory Boards for Pfizer, Incyte/Ariad, Novartis, AOP, BMS, and CTI; receives honoraria and travel funding from Novartis, BMS, Pfizer, Incyte/Ariad, and Shire; has received scientific research support from Novartis Foundation, BMS, and Novartis; and has received travel funding by Alexion. THB reports grants from Pfizer and Novartis and served as an advisor for Novartis, Pfizer, and ARIAD during the conduct of the study. The remaining authors declare that they have no competing interests.
Publisher's Note
Springer Nature remains neutral with regard to jurisdictional claims in published maps and institutional affiliations.
Open Access
This article is distributed under the terms of the Creative Commons Attribution 4.0 International License (
http://​creativecommons.​org/​licenses/​by/​4.​0/​
), which permits unrestricted use, distribution, and reproduction in any medium, provided you give appropriate credit to the original author(s) and the source, provide a link to the Creative Commons license, and indicate if changes were made. The Creative Commons Public Domain Dedication waiver (
http://​creativecommons.​org/​publicdomain/​zero/​1.​0/​
) applies to the data made available in this article, unless otherwise stated.