27.04.2019 | Case Based Review | Ausgabe 8/2019 Open Access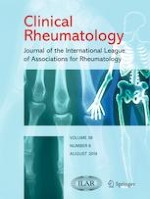 Diffuse pruritic erythema as a clinical manifestation in anti-SAE antibody-associated dermatomyositis: a case report and literature review
Zeitschrift:
Autoren:

Ertao Jia, Jiaxin Wei, Hongling Geng, Xia Qiu, Jingjing Xie, Yuya Xiao, Li Zhong, Min Xiao, Yanying Zhang, Yubao Jiang, Jianyong Zhang
Wichtige Hinweise
Ertao Jia, Jiaxin Wei and Hongling Geng contributed equally to this work.
Publisher's note
Springer Nature remains neutral with regard to jurisdictional claims in published maps and institutional affiliations.
Abstract
Anti-small ubiquitin-like modifier-1 activating enzyme (anti-SAE) antibodies have been recently discovered especially for myosin and identified as dermatomyositis (DM) marker. The frequency of anti-SAE antibodies in DM patients is extremely low. Diffuse pruritic erythema may be one kind of clinical manifestations of DM with anti-SAE antibodies. In this report, a 48-year-old female patient with amyopathic dermatomyositis (ADM) carrying anti-SAE antibodies presented diffuse pruritic erythema for 5 months. Diffuse pruritic erythema improved after treatment with prednisolone, cyclosporine, and thalidomide. The clinical characteristics of 75 previously reported cases with anti-SAE antibody-positive DM were reviewed, and the manifestations of the Asian and Western cohorts were compared. It was revealed that the Asian patients were more susceptible to diffuse erythema (17/34 vs. 3/41,
P
 = 0.000), dysphagia (16/34 vs. 10/41,
P
 = 0.040), and interstitial lung disease (ILD) (21/34 vs. 5/41,
P
 = 0.000) compared with the Western patients. The frequency of malignancy in the Asian cohort was significantly higher than that in the Western cohort (10/34 vs. 4/41,
P
 = 0.030).