01.12.2014 | Research article | Ausgabe 1/2014 Open Access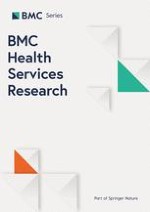 Direct costs of hypertensive patients admitted to hospital in Vietnam' a bottom-up micro-costing analysis
Zeitschrift:
Autoren:

Thi-Phuong-Lan Nguyen, Thi Bach Yen Nguyen, Thanh Trung Nguyen, Van Vinh Hac, Hoa H Le, CCM Schuiling-Veninga, Maarten J Postma
Wichtige Hinweise
Electronic supplementary material
The online version of this article (doi:
10.​1186/​s12913-014-0514-4
) contains supplementary material, which is available to authorized users.
Competing interests
The authors declare that they have no competing interests.
Background
In addition, hospitals in Vietnam are gaining greater autonomy. Having knowledge on their expenditures for inpatient care services will help these hospitals to improve their financial management as well as to adequately issue fees for both insured and non-insured patients. Currently, neither information on the costs of inpatient care for the treatment of hypertension and its consequences nor solid estimates on the comprehensive costs of hypertension management is available in Vietnam.
To address these gaps of information, we conducted this study to quantify the direct costs of inpatient care for hypertensive patients. Furthermore, these results may 1) contribute to a better understanding of the economic burden of hypertension in Vietnam, 2) help with reimbursement decision making for insured patients, 3) support setting potential fees and charges to be issued for non-insured patients and 4) inform on potential impacts of preventive policies.
Methods
Study design and setting
We conducted a retrospective study in the Thai Nguyen hospital. Data was collected from the financial records during October 1st 2010 to September 30th 2011.
The study was conducted at a regional hospital with 800 beds in the city of Thai Nguyen, which is located in a mountainous area that is approximately 100 km North of Hanoi. It serves patients from Thai Nguyen and neighboring provinces.
All costing of resource utilization was adjusted to 2011 levels and presented in US$ using the exchange rate of US$1 to VND20.830 [
15
].
Study participants
Using the International Classification of Diseases 10 th version (ICD-10), we identified and retrieved information on all patients with codes I10 alone (essential or primary hypertension) or comorbid patients with I10 combined with E75 (sphingolipid metabolism and other lipid storage disorders). The latter group was included because hypertension often coincides with these disorders. The combination of diagnoses might reflect a relatively large share of the overall hypertensive patient group with deviating costs. ICD-10 codes were taken from hospital databases and individual patients' records.
Information on age, sex and ICD code was available for all of the selected patients with ICD code I10 or I10 combined with E75.
However, data might be missing as administrators may forget to enter classification data or misclassify; i.e. patients and/or patient-related data might be missing. In addition, by doing this retrospectively, we had no certainty on whether each financial record was included or not. Nurses should enter all consumed items such as drugs, tests, medical materials into the database system before she/he can get them from store or lab services. Other cost items such as patient-days and examinations were automatically recorded for every patient. This ensures that all these items were recorded and financial records are likely complete. Whenever financial records seemed grossly incomplete or absent at all, patients were excluded. This was however not the case. It was therefore plausibly assumed that missing data was limited and random. Thus, no specific bias was expected.
Costing perspective and cost components
Direct costs were analyzed from the provider perspective. Data on costs included all charges to patients for drugs, materials (both medical and non-medical) and laboratory testing, all crucial elements in the financial records and reflecting adequate charging. In particular, hospital-based costing was performed using both bottom-up and micro-costing methods and aggregation was subsequently conducted for all costs related to medical services used by a group of hospitalized patients [
16
],[
17
]. For this purpose, costs of inpatient care were broken down into two parts:
Inpatient - days costs and other costs (laboratory testing, drugs, medical materials charged to patients directly, admission, and examinations by specialists). Costs of inpatient care can be expressed as:
Method of cost measurements
Calculation of inpatient – days' costs
The step-down allocation method- partially adjusted for interaction between overhead departments- was applied for allocating overhead costs [
17
]. In the base-case, the discount rate for medical equipment and building was 3% [
17
]. The formula applied here may be expressed as:
Labor costs were calculated based on the actual payment for labor by the hospital every month during a year; funding was provided by government or specific funds for services organized by the hospital. Material/infrastructure costs were calculated by items used at each department multiplied with the price market which the hospital paid based on again monthly updated records of the hospital. Capital costs were calculated based on assets' records of the hospital, which is updated every year.
Notably, non-medical costs of materials/infrastructure primarily comprise of power, telephone, uniforms, stationary and cloths. In the absence of any detailed information, an assumption was made that equal costs for an inpatient day would apply for every disease within each department.
The inpatient-day costs per department resulted from the total costs divided by the total number of inpatient days for that department:
Other costs and total patient costs
The cost-to-charge ratio method was applied to calculate laboratory testing costs [
17
]. While the input data to calculate cost of each test - such as number of chemicals used, time investment of staff members to run each test, etcetera - were limited, total input of each department, total number of tests per type and prices were available. Therefore, cost-to-charge ratio was considered to be the best method for calculating laboratory costs. At each laboratory department, we tracked the number of each test and multiplied these by the charges that apply in the hospital (base on the recommendation of the Ministry of Health). We subsequently summed up all those items to identify total finances of that department. Cost-to-charge ratio in each department was calculated dividing total input costs of each department in terms of building, labor, material, equipment, etcetera by those total finances generated through charges. Information on numbers of test was only available for the last half of the year because of a mistake in the software to extract total number of each test. To annualize, the total numbers for each test was multiplied by two.
In this study, standard national prices for drugs and materials were not available. As Thai Nguyen hospital is a non-profit hospital, we assumed that the use of drug and material charges from this hospital would well approach actual costs. Cost of drugs and materials were calculated based on the current market prices, which the hospital paid. Therefore, we could validly impute these charges into our cost analysis for each drug and material used [
17
]. Both drugs and medical materials were charged to patients directly and accordingly inserted in the analysis. These costs were consistently calculated based on numbers of items used multiplied by the specific prices of each item.
Admission cost, which is required for every intake examination for admission to the hospital, was calculated similarly as was done for inpatient – day' costs. Admission costs per patient is equal to the total costs of outpatient department divided by the total number patient visits at outpatient.
Examination costs at specialist departments were calculated for patients who had specific examinations. Examinations were counted and monetized using charges as determined by the recommendations of the Ministry of Health.
Total costs per patient resulted from the aggregation of inpatient-days' costs multiplied by the length of stay, laboratory test costs, drug costs, medical material costs, admission costs, and costs of examinations at specialist departments. Example of calculating total costs for a patient is presented in the Additional file
1
.
Sources of data
Labor costs (wages and allowances) were quantified based on financial records of the hospital. Material (not charged to patients directly) and capital (both medical and non-medical equipment and building costs) were quantified based on the financial records, administration of materials used and capital inventories of the hospital.
Age, sex, department, length of stay, total numbers of each laboratory test, numbers of each drug and medical materials charged to patients directly were retrieved from patient-based databases of the hospital. Prices for specific services such as medication, materials/disposables and laboratory tests were available from the specific databases of the hospital. Furniture and land costs were not included in this study as no information was available.
The number of tests completed for each patient and its charges were obtained from the individual patient sheets. We selected all tests, including test for the diagnosis and/or treatment of hypertension and other condition. Total number of all tests in 6 months was multiplied by 2 and then divided by the total number of patients in 2011, equating 11 in the whole hospital. For the hypertensive in-patient group, the average number of tests per patient was 16.8, 16.3 and 17.1 in both groups, I10 and I10 + E75, respectively. Of course for costing, each individual test was priced separately.
Statistical and sensitivity analysis
Means, medians and Inter Quartile Range (IQRs) of costs were measured as outcome in this study. Univariate sensitivity analyses were performed to explore the robustness of the analyses [
18
]. Notably, hypertensive patients may be admitted to hospital with comorbidities.
In this context, it is very important to rule out the costs resulting from diagnosing and treating these other diseases. Therefore, we conducted one sensitivity analysis with a scenario that excluded all costs resulting from diagnosing and treating comorbid diseases. We limited to specific costs for diagnosing and treating I10 and E75 diseases in this scenario. In addition, the discount rate for capital was varied from 1% to 5%. As data on furniture were not available, these costs were not included in the base case. Additionally, a scenario where an estimated 5% furniture cost was added to the total capital cost was explored [
19
]. Finally and in the absence of standardized national prices, we analyzed sensitivity t o laboratory tests by using laboratory test charges instead of laboratory test costs as used in the base case. Multivariate sensitivity analyses were also performed to explore the contribution of two or three parameters at once to the uncertainty in the total costs.
Ethical issues
This study was approved by the ethical committee of the Thai Nguyen General hospital. Databases of this study were used under the permission of the Planning department of the Thai Nguyen General hospital.
Results
The analyses were based on 230 patients who met the inclusion criteria, including 147 cases with essential (primary) hypertension (I10) and 83 cases with hypertension combined with sphingolipid metabolism and other lipid storage disorders (I10 + E75). Mean age was 64.3 (SD +/-14.7) and 53.5% was female. Characteristics of patients are indicated in Table 
1
. Median length of stay was 6 days with an IQR of 3-8 in the whole study population, and 5 days (IQR: 2-7) and 7 days (IQR: 5-9) in the in the I10 and I10 + E75 groups, respectively.
Table 1
Characteristic of patients
| Characteristic | n = 230 | Percentage (%) |
| --- | --- | --- |
| Gender | | |
|  Female | 123 | 53.5 |
|  Male | 107 | 46.5 |
| Patient group | | |
|  I10 | 147 | 64% |
|  I10 + E75 | 83 | 36% |
| Age (mean ± SD) | 64.3 (±14.7) | |
Hypertensive patients were admitted in 3 departments of the hospital; i.e., Cardiovascular Internal Medicine, Geriatric Internal Medicine and Neurology. For these departments, base- case inpatient' day costs were US$4.99, US$5.05 and US$5.33, respectively. Notably, the most expensive per day costs were associated with patients admitted to Neurology department.
Costs of treatment for these hypertensive inpatients are presented in Table 
2
as the result of the base case, which considers a 3% discount, uses laboratory test charges and includes no furniture costs. Median total direct costs per patient were US$65 (IQR: 37-95). Total costs per patient were higher in the combined hypertensive and lipid population (US$78) than in the sole hypertensive patients (US$53). However, the median costs per day were slightly higher in the sole hypertensive patients compared to the combined group with estimates of US$11.4 and US$10.9, respectively. In the base-case, inpatient-day costs, at 41% of the total cost, represented the highest cost component. Costs of drugs followed as second largest cost component with 34%, as presented in Table 
2
.
Table 2
Direct costs (US$) per hypertensive inpatient by disease classification and cost category
Cost category

Median (and IQR) of costs

Mean (± SD) of costs

% of total costs of all patients

% of total costs of I10 group

% of total costs of I10 combine E75

All patients (n = 230)

I10 group (n = 147)

I10 combined E75 group (n = 83)

All patients (n = 230)

I10 group (n = 147)

I10 combined E75 group (n = 83)

Inpatient days

29.94 (14.97 - 39.92)

24.95 (9.98 - 34.93)

34.93 (24.95 - 44.91)

29.05 (±16.45)

24.86 (±15.94)

36.48 (±14.69)

41.37

40.01

43.14

Drugs

11.67 (4.63 - 39.76)

8.26 (3.69 - 37.02)

16.13 (8.47 - 51.47)

23.85 (±25.4)

21.24 (±25.26)

28.45 (±25.12)

33.96

34.19

33.65

Tests

13.00 (6.89 - 19.24)

11.56 (5.62 - 15.76)

13.69 (7.81 - 25.76)

15.84 (±13.88)

14.49 (±13.46)

18.22 (±14.37)

22.55

23.33

21.54

Others

1.23 (0.84 - 1.68)

1.17 (0.82 - 1.56)

1.41 (0.85 - 1.83)

1.49 (±2.26)

1.53 (±2.79)

1.41 (±0.6)

2.12

2.47

1.67

Total costs

64.95 (37.18 - 95.32)

53.41 (29.71 - 82.82)

77.64 (56.61 ±106.5)

70.23 (±42.89)

62.13 (±43.76)

84.56 (±37.46)

100

100

100
Results of the sensitivity analyses, including 12 scenarios reflecting relevant alternative options, are presented in Figure 
1
. In all scenarios, inpatient-day costs appeared to be the most important cost driver in the total costs per patient. In the scenario where costs of comorbid diseases were excluded, the median total direct costs per patient were US$64.6 (IQR: 37 -95). Using laboratory testing charges instead of costs showed changes in the specific scenarios with increases between 15% and 17% (or US$75 to US$76 for total cost) compared to the base-case. Other scenarios, such as changing discount rates to 1% and 5%, adding 5% furniture to the capital costs produced minor impact on the total costs (from minus 0.8% to 1.1% changes in total costs).
×
Discussion
In this study, the number of inpatient days for sole-hypertensive patients was 5 days. These patients may have undetected and uncontrolled hypertension and now requires hospitalization to be diagnosed for primary or secondary hypertension. In addition, there is no ambulatory blood-pressure monitoring service available in the community. Patients must be admitted to a hospital for diagnosis. As an alternative to expensive hospital care, community level health services may serve as a cheaper option, but these centers need to be strengthened to enable blood-pressure monitoring for the broader population.
Conclusions
In comparison to annual medication treatment at a community health station for hypertension and total health expenditure per capita in Vietnam, the costs of hospitalization of hypertensive patients is high. The main driver of the costs is related to inpatient days rather than to treatment, laboratory or other cost categories. Our findings have important implications for health policies. Costs of treatment for hypertension and combined disorders of sphingolipid metabolism and other lipid storage disorders in this study could become the reference case for reimbursement when health insurance companies apply reimbursement by fee for diagnostic-related groups. The findings in this study, particularly the high cost of hospitalization for untreated and uncontrolled hypertension, justify increasing current expenditures by the Vietnamese health-care sector on effective interventions to control high blood pressure, which may produce savings to the health care budget by preventing expensive complications.
Authors' contributions
TPLN identified the problem and idea of the study; TPLN, TBYN, TTN, PMJ was responsible for study design. TPLN, VVH conducted data collection. TPLN, PMJ did data analysis. TPLN, S-VCCM, PMJ drafted the manuscript and all authors commented on and refined the draft. PMJ was general supervision, LHH edited the final version. All authors read and approved the final manuscript.
Additional file
Acknowledgement
The research was funded by a project called 'Centers of Excellence for Human Resources for Health: University-based Centers to Act as Resource and Transfer Point for Development Across the Health Sector in Vietnam'.
This article is published under license to BioMed Central Ltd. This is an Open Access article distributed under the terms of the Creative Commons Attribution License (
http://​creativecommons.​org/​licenses/​by/​2.​0
), which permits unrestricted use, distribution, and reproduction in any medium, provided the original work is properly credited.
Competing interests
The authors declare that they have no competing interests.