12.06.2018 | Original Article | Ausgabe 2/2019 Open Access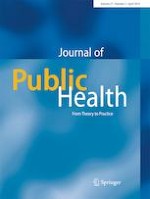 Disease mapping of
tuberculosis

prevalence in Eastern Cape Province, South Africa
Zeitschrift:
Autoren:

Davies Obaromi, James Ndege, Qin Yongsong
Abstract
Aim
This is an applied study to investigate the association of selected socio-economic and demographic factors with the relative risk of tuberculosis (TB) prevalence in the Eastern Cape Province of South Africa and to produce disease maps for the spatial outlines of the disease in the province.
Subjects and methods
This is an ecological spatial study of TB prevalence in the Eastern Cape, a province in South Africa, during the year 2014. Three socio-economic indicators and three demographic factors, all calculated per sub-district, were used to assess their relationship with tuberculosis prevalence, using a Poisson regression model.
Results
From the analysis, the best model included all the selected covariates of the proximal model with the spatial random effects. The improvement in the goodness-of-fit statistic when the spatial structure was included confirms the spatial pattern of population density and average household size.
Conclusion
The idea of assessing both the impact of covariates at the ecological level and spatial outlines in the same context should be encouraged in epidemiology to help with creating epidemiological surveillance systems (ESS) on a provincial basis for planning interventions and improvement of control programme efficiency.