01.12.2015 | Research article | Ausgabe 1/2015 Open Access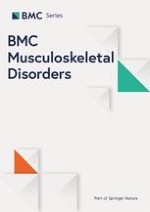 Disease-modifying effects of phosphocitrate and phosphocitrate-β-ethyl ester on partial meniscectomy-induced osteoarthritis
Zeitschrift:
Autoren:

Yubo Sun, Nikkole Haines, Andrea Roberts, Michael Ruffolo, David R. Mauerhan, Kim L. Mihalko, Jane Ingram, Michael Cox, Edward N. Hanley Jr
Wichtige Hinweise
Competing interests
The authors declare that they have no competing interests.
Authors' contributions
YS, DRM and ENH conceived the study. YS wrote the manuscript. DRM and ENH participated in the discussion of experimental results and assisted with manuscript preparation. NH, MR and KLM performed the surgery and harvested tissues. AR, NH and YS took x-ray of the knee joints and menisci, and dissected the knee joints. AR and YS performed injection of PC, cartilage grading and data analysis. JI and MC performed embedding, sectioning and staining. All authors read and approved the final manuscript.
Authors' information
Not applicable.
Abstract
Background
It is believed that phosphocitrate (PC) exerts its disease-modifying effects on osteoarthritis (OA) by inhibiting the formation of crystals. However, recent findings suggest that PC exerts its disease-modifying effect, at least in part, through a crystal-independent action. This study sought to examine the disease-modifying effects of PC and its analogue PC-β-ethyl ester (PC-E) on partial meniscectomy-induced OA and the structure-activity relationship.
Methods
Calcification- and proliferation-inhibitory activities were examined in OA fibroblast-like synoviocytes (FLSs) culture. Disease-modifying effects were examined using Hartley guinea pigs undergoing partial meniscectomy. Cartilage degeneration was examined with Indian ink, safranin-O, and picrosirius red. Levels of matrix metalloproteinase-13 (MMP-13), ADAM metallopeptidase with thrombospondin type 1 motif 5 (ADAMTS5), chemokine (C-C motif) ligand 5 (CCL5), and cyclooxygenase-2 (Cox-2) were examined with immunostaining. The effects of PC-E and PC on gene expressions in OA FLSs were examined with microarray. Results are expressed as mean ± standard deviation and analyzed using Student's
t
test or Wilcoxon rank sum test.
Results
PC-E was slightly less powerful than PC as a calcification inhibitor but as powerful as PC in the inhibition of OA FLSs proliferation. PC significantly inhibited cartilage degeneration in the partial meniscectomied right knee. PC-E was less powerful than PC as a disease-modifying drug, especially in the inhibition of cartilage degeneration in the non-operated left knee. PC significantly reduced the levels of ADAMTS5, MMP-13 and CCL5, whereas PC-E reduced the levels of ADAMTS5 and CCL5. Microarray analyses revealed that PC-E failed to downregulate the expression of many PC-downregulated genes classified in angiogenesis and inflammatory response.
Conclusions
PC is a disease-modifying drug for posttraumatic OA therapy. PC exerts its disease-modifying effect through two independent actions: inhibiting pathological calcification and modulating the expression of many genes implicated in OA. The β-carboxyl group of PC plays an important role in the inhibition of cartilage degeneration, little role in the inhibition of FLSs proliferation, and a moderate role in the inhibition of FLSs-mediated calcification.