03.12.2018 | Original Article | Ausgabe 5/2019 Open Access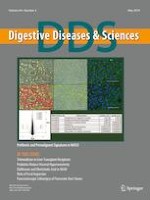 Disease Progression and Pharmacological Intervention in a Nutrient-Deficient Rat Model of Nonalcoholic Steatohepatitis
Zeitschrift:
Autoren:

Kirstine S. Tølbøl, Birgit Stierstorfer, Jörg F. Rippmann, Sanne S. Veidal, Kristoffer T. G. Rigbolt, Tanja Schönberger, Matthew P. Gillum, Henrik H. Hansen, Niels Vrang, Jacob Jelsing, Michael Feigh, Andre Broermann
Abstract
Background
There is a marked need for improved animal models of nonalcoholic steatohepatitis (NASH) to facilitate the development of more efficacious drug therapies for the disease.
Methods
Here, we investigated the development of fibrotic NASH in male Wistar rats fed a choline-deficient
l
-amino acid-defined (CDAA) diet with or without cholesterol supplementation for subsequent assessment of drug treatment efficacy in NASH biopsy-confirmed rats. The metabolic profile and liver histopathology were evaluated after 4, 8, and 12 weeks of dieting. Subsequently, rats with biopsy-confirmed NASH were selected for pharmacological intervention with vehicle, elafibranor (30 mg/kg/day) or obeticholic acid (OCA, 30 mg/kg/day) for 5 weeks.
Results
The CDAA diet led to marked hepatomegaly and fibrosis already after 4 weeks of feeding, with further progression of collagen deposition and fibrogenesis-associated gene expression during the 12-week feeding period. Cholesterol supplementation enhanced the stimulatory effect of CDAA on gene transcripts associated with fibrogenesis without significantly increasing collagen deposition. Pharmacological intervention with elafibranor, but not OCA, significantly reduced steatohepatitis scores, and fibrosis-associated gene expression, however, was unable to prevent progression in fibrosis scores.
Conclusion
CDAA-fed rats develop early-onset progressive NASH, which offers the opportunity to probe anti-NASH compounds with potential disease-modifying properties.