01.12.2018 | Research article | Ausgabe 1/2018 Open Access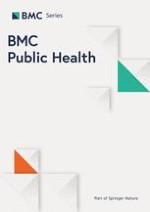 Disparities in risky sexual behavior among khat chewer and non- chewer college students in Southern Ethiopia: a comparative cross-sectional study
Zeitschrift:
Autoren:

Eyasu Ware, Gurmesa Tura, Tsedach Alemu, Eshetu Andarge
Wichtige Hinweise
Electronic supplementary material
Abstract
Background
Risky sexual behavior (RSB) and its consequence among school adolescents and youths have been well understood. It is still a common practice among college and university students living away from their controlling families compounded with the ever-worsening khat chewing habits. However, the relation between khat chewing and RSB is not well studied particularly among college students in Ethiopia. Hence, this study contributes to the literature by examining disparities of RSB among khat chewer and non-chewer students in Southern Ethiopia with the purpose of improving adolescent and youth health.
Methods
An institution-based comparative cross-sectional study was conducted among 1211 college students at Arba Minch town in March 2015. Respondents were selected by employing a simple random sampling technique. Data was collected by using a pre-tested, structured, self- administered questionnaire. The data was entered into Epidata version 3.1 and analyzed using IBM SPSS statistics version 21. Level of statistical significance was declared at a
p
- value of < 0.05.
Results
The prevalence of lifetime and current RSB among college students was 40.8 and 36.5% respectively. The lifetime and current prevalence of RSB among khat chewers (82.2 and 30.9%) was significantly higher than non-chewers (74.2 and 27.6%) respectively (
P
-value = 0.001). Male sex (AOR = 1.82; 95% CI = 1.28, 2.6), urban residence (AOR = 1.63,95% CI = 1.17, 2.28), age of students (AOR = 1.18; 95% CI = 1.09,1.28), living away from family (AOR = 2.45, 95% CI = 1.62,3.7), having high peer pressure (AOR = 2.58, 95% CI = 1.85–3.59), an increase in average grade point (AOR = 0.98, 95% CI = 0.96–0.99), regular attendance of religious institutions (AOR = 0.24, 95%CI = 0.12, 0.42), watching pornographic movies (AOR = 2.51, 95% CI = 1.79,3.51), khat chewing (AOR = 3.02, 95% CI:=1.91,4.76) and alcohol drinking (AOR = 2.26, 95% CI = 1.54,3.35) were factors associated with RSB.
Conclusions
Considerable proportions of students were engaged in khat chewing and RSB. RSB was significantly higher among khat chewers as compared to non- chewers. Comprehensive sexuality education was recommended to college communities and by extension to the ministry of health and education to address the identified factors so that RSB can be reshaped.