01.12.2017 | Research article | Ausgabe 1/2017 Open Access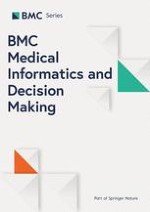 Disparities in the use of mobile phone for seeking childbirth services among women in the urban areas: Bangladesh Urban Health Survey
Zeitschrift:
Autoren:

Ghose Bishwajit, Md. Rakibul Hoque, Sanni Yaya
Abstract
Background
In Bangladesh, similar to its other South Asian counterparts, shortage of health workers along with inadequate infrastructure constitute some of the major obstacles for the equitable provision of reproductive healthcare services, particularly among the marginalized and underserved neighbourhoods. However, given the rapidly expanding broadband communication and mobile phone market in the country, the application of eHealth and mHealth technologies offer a window of opportunities to minimise the impact of socioeconomic barriers and promote the utilization of maternal healthcare services thereby. In the present study we aimed to investigate 1) the prevalence of usage of mobile phones for seeking childbirth services, 2) neighbourhood and socioeconomic disparities in the use, and 3) association between using mobile phones and the uptake of postnatal care among mothers and neonates.
Methods
Data for the present study came from Bangladesh Urban Health Survey 2013. Study subjects were 9014 married women aged between 15 and 49 years.
Results
The overall rate of use of mobile phone was highest in City Corporation non-Slum areas (16.2%) and lowest in City Corporation Slum areas (7.4%). The odds of using mobile for seeking childbirth services were significantly higher among those who were living in non-slum areas, and lower among those who never attended school and lived in poorer households. Results also indicated that women in the slum areas who used mobile phone for childbirth service seeking, were 4.3 times [OR = 4.250;95% CI = 1.856–9.734] more likely to receive postnatal care for themselves, and those from outside the city-corporation areas were 2.7 times [OR = 2.707;95% CI = 1.712–4.279] more likely to receive postnatal care for the newborn.
Conclusion
Neighbourhood, educational and economic factors were significantly associated with the mobile phone utilization status among urban women. Promoting access to better education and sustainable income earning should be regarded as an integral part to the expansion of mHealth for maternal healthcare seeking behaviour.