01.03.2012 | Article | Ausgabe 3/2012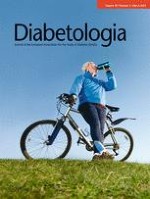 Disruption of the association of integrin-associated protein (IAP) with tyrosine phosphatase non-receptor type substrate-1 (SHPS)-1 inhibits pathophysiological changes in retinal endothelial function in a rat model of diabetes
Zeitschrift:
Autoren:

L. A. Maile, K. Gollahon, C. Wai, G. Byfield, M. E. Hartnett, D. Clemmons
Abstract
Aims/hypothesis
We have previously shown that the association of integrin-associated protein (IAP) with tyrosine phosphatase non-receptor type substrate-1 (SHPS-1) regulates the response of cells, including osteoclasts, osteoblasts, smooth muscle and retinal endothelial cells, to IGF-I. Here we sought to: (1) determine whether the regulation of IGF-I responsiveness by the association of IAP with SHPS-1 is a generalised response of endothelial cells; (2) identify the mechanism by which this association contributes to changes in endothelial cell responses to IGF-I; and (3) determine whether inhibition of this association alters pathophysiological changes occurring in vivo.
Methods
Endothelial cells were maintained in 5 mmol/l glucose and at hyperglycaemic levels, and exposed to an anti-IAP antibody that disrupts the association between IAP and SHPS-1. A rodent model of diabetes with endothelial cell dysfunction was used to investigate the role of the association of IAP with SHPS-1 in endothelial cell function in vivo.
Results
Endothelial cells maintained in 5 mmol/l glucose showed constitutive cleavage of the extracellular domain of IAP (which contains the SHPS-1 binding site), with no association between IAP and SHPS-1 being detected. In contrast, hyperglycaemia inhibited IAP cleavage, allowing IAP to associate with SHPS-1 and IGF-I to stimulate SHPS-1 tyrosine phosphorylation. Exposure to the anti-IAP antibody inhibited IGF-I-stimulated tube formation and increased permeability. In the rodent model, basal IAP–SHPS-1 association was not detected in retinal extracts from normal rats, but was fully restored in rats with diabetes. The anti-IAP antibody inhibited the association of IAP with SHPS-1, and reduced retinal vascular permeability and leucocyte adherence to levels similar to those in non-diabetic rats. The antibody also significantly inhibited the aberrant neovascularisation induced by hypoxia.
Conclusions/interpretation
Our results demonstrate that the increased association of IAP with SHPS-1 contributes to the pathophysiological changes in the endothelium that are induced by hyperglycaemia and hypoxia.