01.12.2017 | Research article | Ausgabe 1/2017 Open Access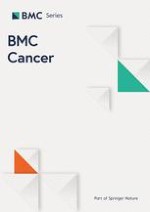 Disruption of TWIST1-RELA binding by mutation and competitive inhibition to validate the TWIST1 WR domain as a therapeutic target
Zeitschrift:
Autoren:

Cai M. Roberts, Sophia A. Shahin, Joana Loeza, Thanh H. Dellinger, John C. Williams, Carlotta A. Glackin
Wichtige Hinweise
Electronic supplementary material
The online version of this article (doi:
10.​1186/​s12885-017-3169-9
) contains supplementary material, which is available to authorized users.
Abstract
Background
Most cancer deaths result from tumor cells that have metastasized beyond their tissue of origin, or have developed drug resistance. Across many cancer types, patients with advanced stage disease would benefit from a novel therapy preventing or reversing these changes. To this end, we have investigated the unique WR domain of the transcription factor TWIST1, which has been shown to play a role in driving metastasis and drug resistance.
Methods
In this study, we identified evolutionarily well-conserved residues within the TWIST1 WR domain and used alanine substitution to determine their role in WR domain-mediated protein binding. Co-immunoprecipitation was used to assay binding affinity between TWIST1 and the NFκB subunit p65 (RELA). Biological activity of this complex was assayed using a dual luciferase assay system in which firefly luciferase was driven by the interleukin-8 (IL-8) promoter, which is upregulated by the TWIST1-RELA complex. Finally, in order to inhibit the TWIST1-RELA interaction, we created a fusion protein comprising GFP and the WR domain. Cell fractionation and proteasome inhibition experiments were utilized to elucidate the mechanism of action of the GFP-WR fusion.
Results
We found that the central residues of the WR domain (W190, R191, E193) were important for TWIST1 binding to RELA, and for increased activation of the IL-8 promoter. We also found that the C-terminal 245 residues of RELA are important for TWIST1 binding and IL-8 promoter activation. Finally, we found the GFP-WR fusion protein antagonized TWIST1-RELA binding and downstream signaling. Co-expression of GFP-WR with TWIST1 and RELA led to proteasomal degradation of TWIST1, which could be inhibited by MG132 treatment.
Conclusions
These data provide evidence that mutation or inhibition of the WR domain reduces TWIST1 activity, and may represent a potential therapeutic modality.